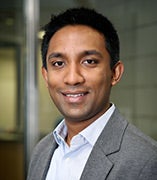 Selva Nadarajah
Assistant Professor
Department of Information and Decision Sciences
Contact
Office Phone Voice:
(312) 355-2774
Email:
CV Download:
About
Experience
Consulting experience with companies in the retail, high technology, and energy industries
Classes Taught
Introduction to Operations Management (MBA core: Fall 2014/15/16, Spring 2015; Corporate MBA: Fall 2016)
Supply Chain Management (Graduate elective: Spring 2015, Spring 2016, Spring 2017)
Dynamic programming (PhD elective: Fall 2016)
Research Interests
Energy operations with focus on commodity and energy conversion assets (e.g., natural gas storage, power plants, and oil refineries), including renewable energy (e.g., wind)
Solution of large scale dynamic optimization problems using approximate dynamic programming and math programming
Revenue management in the hospitality (e.g. hotels) and retail sectors
Selected Publications
Accepted/Published Paper
Merchant energy trading in a network (with N. Secomandi), Operations Research, Forthcoming, 2017.
Relationship between least squares Monte Carlo and approximate linear programming (with N. Secomandi), Operations Research Letters, 45(5), 2017.
Comparison of least squares Monte Carlo methods with applications to energy real options (with F. Margot and N. Secomandi). European Journal of Operational Research, 256(1), 2017.
Relaxations of approximate linear programs for the real option management of commodity storage (with F. Margot and N. Secomandi). Management Science, 61(12), 2015
Real option management of hydrocarbon cracking operations (with N. Secomandi, G. Sowers, and J. Wassick). Real Options in Energy and Commodity Markets (Now publishers), 2017.
An integrated approach to the less-than-truckload carrier collaboration problem (with J. H. Bookbinder). Journal of Heuristics, 19(6), 2013
Submitted Papers
Managing shutdown risk in merchant commodity and energy production (with A. Trivella, S.E. Fleten, D. Mazieres, D. Pinsinger).
Revisiting approximate linear programming using a saddle point based reformulation and root finding solution approach (with Q. Lin and N. Soheili).
Network-based approximate linear programming for discrete optimization (with A. Cire).
A level-set method for convex optimization with a feasible solution path (with Q. Lin and N. Soheili).
Dynamic pricing for hotel rooms when customers request multiple-day stays (with Y. F. Lim and Q. Ding)
Partial hyperplane activation for generalized intersection cuts (with A. Kazachkov, E. Balas, and F. Margot).
Conference Proceedings
Operation, valuation, and electricity sourcing for a generic Aluminium smelter (with S. H. Andresen, E. F. Aas, S. E. Fleten, D. Mazieres), Real options workshop 2015, Lappeenranta, Finland
A three-echelon integrated production-distribution system (with J. H. Bookbinder). International Conference on Decision Sciences and Technology for Globalization, Decision Sciences Institute, Ghaziabad, India. 2008
Enhancing transportation efficiencies through carrier collaboration (with J. H. Bookbinder). BPC World Conference , Mumbai, India. 2007
Non-destructive evaluation by low pulsing acoustic tap technique: Spectral relationships (with T.S. Niranjan and A.V.Varun). Flight 2006, National Aerospace Symposium, Chennai, India. 2006
Notable Honors
2014, William L. Cooper Doctoral Dissertation Award in Management Sciences or Management, Carnegie Mellon University
2013, Egon Balas Best Student Paper Award, Carnegie Mellon University
2009, William Larimer Mellon Fellowship, Carnegie Mellon University
2008, Innovations in SCM Track Best Paper Award, ISDSI Conference
Education
PhD in Operations Research, Tepper School of Business, Carnegie Mellon University
Master of Science in Operations Research, Tepper School of Business, Carnegie Mellon University
Master of Applied Sciences in Operations Research, Department of Management Sciences, University of Waterloo
Bachelor of Technology in Aerospace Engineering, Department of Aerospace Engineering, Indian Institute of Technology Madras