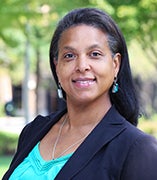 Susan Perkins
Associate Professor
Department of Managerial Studies
Building:
University Hall
Address:
601 S. Morgan St., Chicago, IL 60607
Email:
Office Phone Voice:
CV Download:
Related Sites:
About
Classes Taught
Global Strategy
Corporate Strategy
International Business Strategy Lab
Awards & Affiliations
Northwestern University Public Voices Fellowship
Massachusetts Institute of Technology Dr. Martin Luther King, Jr. Fellowship
Richard N. Farmer Dissertation Award Finalist
NYU Stern School of Business Herman E. Krooss Best Dissertation Award
Winner, INFORMS/Organization Science Dissertation Proposal Competition
Academy of Management IM Division Best Paper Award
Nominated, CCC Colloquium for Doctoral Student Research
Stern School of Business Doctoral Student "Excellence in Teaching" Award
NBMBAA H. Naylor Fitzhugh PhD Fellowship Award
NYU Stern School of Business Competitive Dissertation Research Grant
New York University Stern School of Business Doctoral Fellowship
Consortium For Graduate Study in Management Fellowship
Beta Gamma Sigma Honors Society for Business
General Motors Executive Fellowship
Howard University Board of Trustees Scholarship
National Golden Key Honors Society
NCR Corporation Scholarship
Alpha Kappa Alpha Sorority, Inc. Scholarship
Selected Publications
Perkins, S. (2014). "When Does Prior Experience Pay? Institutional Experience and the Case of the Multinational Corporation," Administrative Science Quarterly, 59(1):145-181.
Perkins, S., Morck, R. and Yeung, B. (2014). "Innocents Abroad: The Hazards of International Joint Ventures with Pyramidal Group Firms," Global Strategy Journal, 4: 310–330.
Perkins, S. (2014). "Cross-national Variations in Industry Regulation: A Factor Analytic Approach with an Application to Telecommunications, Regulation & Governance," 8: 149–163.
Perkins, S., Phillips, K.W. and Pearce, N. (2013). "Ethnic Diversity, Gender, and National Leaders," Journal of International Affairs, 67(1): 85-104.
Perkins, S. and Minefee, I. (2015) "Jeitinho Brasileiro: Adopting Nonmarket Strategies in Brazil, Routledge Companion to Nonmarket Strategy," Lawton, T.C. and Rajwani, T. (Eds.), Oxford, UK and New York, NY, routledge.com/books/details/9780415712316/.
Perkins, S. (2005). "Institutional Environment Relatedness and Foreign Investment Failures in the Brazilian Telecommunications Industry," Academy of Management, Best Paper Proceedings, M. Weaver (Ed.).
Education
New York University New York, NY
Stern School of Business
Ph.D. in Business Administration, Strategy and International Business
New York University New York, NY
Stern School of Business
M.Philosophy, Management
New York University New York, NY
Stern School of Business
M.B.A., International Business/Management
Fundação Getulio Vargas Sao Paulo, SP, Brazil
International Management Program (joint MBA)
Howard University Washington, D.C.
School of Business
B.B.A., Marketing, Beta Gamma Sigma (Honors)