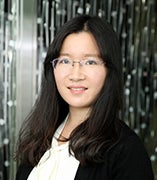 Xinxin Lu
Doctoral Student in Business Administration: Human Resource Management
Contact
Building & Room:
University Hall
Address:
601 S. Morgan St., 2201 UH
Email:
CV Download:
About
Experience
Xinxin is a PhD student in Organizational Behavior and Human Resources in the Department of Managerial Studies at the University of Illinois at Chicago. Prior to her study in UIC, she had done research on ethical leadership and team dynamics for six years, and had obtained her PhD degree in China. During her study on leadership and teams, she gained insights on how leaders can facilitate intragroup cooperation and team performance through leading ethically and she became more interested in relationship between supervisors and the subordinates. Then, she shifted her research attention to the leader-member exchange and social exchange within a group and their associations with ethical leadership. In addition, in studying group dynamics and interactions, Xinxin also developed her interest in engagement at both individual and group level, and accumulated knowledge of how to facilitate employee engagement through interventions such as job redesign and team construction.
Teaching Assistant
Business Ethics, Fall 2017
Corporate Sustainability and Responsibility, Fall 2017
Research Interests
Ethical leadership
Leader-member exchange
Work engagement intervention
Meta-accuracy of personality
Notable Honors
2016, UIC Business Graduate Assistantship, UIC Business
2016, UIC Department of Managerial Studies Fellowship, UIC Business
Education
Doctoral student, University of Illinois at Chicago, 2016-present
PhD of Management, Renmin University of China, China, 2012-2016
Master of Management, Wuhan University, China, 2010-2012
Bachelor of Management, Wuhan University, China, 2006-2010
Selected Presentations
Lu, X., & Sun, J. J. (2016). How ethical leadership enhances knowledge sharing through generalized exchange? Manuscript presented at the 2016 annual Academy of Management (AOM) Conference, Anaheim, California.
Sun, J. & Lu, X. (2017). Multiple pathways linking leader member exchange to work effort. Manuscript presented at the 2017 annual Academy of Management (AOM) Conference, Atlanta, Georgia.