Master of Business Administration
Accelerate your career with an MBA from the UIC Business Liautaud Graduate School.
An MBA from UIC Business Liautaud Graduate School offers you the flexibility to pursue your MBA in a format that best suits your needs. You'll earn a degree that is tailored to your specific interests and gain the hard and soft skills that will set you apart. The program is ranked #65 by U.S. News & World Report.
Applicants to the Master of Business Administration (MBA) program must submit a GMAT/GRE waiver request if they would like to waive the exam requirement. Applicants with two years or more of significant, full-time post-bachelor's work experience and/or a master's/terminal degree as evaluated by the UIC Business admissions review committee will be granted a GMAT/GRE waiver.
Each waiver request is granted on a case-by-case basis, and the MBA waiver request must be submitted one month before the application deadline. MBA applicants who would like to submit GRE/GMAT test scores with their application may still do so.
MBA Programs
The UIC Business Liautaud Graduate School offers MBA programs designed to support your academic and professional development. With classes offered during the day, in the evening and online, you will find the option that best fits your needs.
Full-Time, Accelerated MBA
Full-Time, Accelerated MBA
Fall start only
On-campus cohort program with daytime classes
Finish in three semesters (11 months) or 16 months with optional internship
Ideal for recent graduates looking to enhance their skills and career potential
Concentrations available in Business Analytics, Finance, Management and Marketing
Flexible MBA Program
Flexible MBA Program
Fall, spring or summer start
Set your own pace (full- or part-time)
Take classes at night or on Saturdays (some online courses available)
Finish in as little as 18 months full-time
All concentrations available
Online MBA
Online MBA
August, October, January, March and May start options
Set your own pace (full- or part-time)
Finish in as little as 14 months full-time, 28 months part-time
Concentrations available: Business Analytics, Finance, Human Resource Management and Management
A Full Cost Recovery program and is not eligible for tuition waivers by University of Illinois employees
BA 520 Improv and Leadership
Using improvisational theatre techniques taught in workshop exercise of graduating difficulty, this course creates a safe laboratory for students to experiment with the elements of their own executive presence.
MBA 590 Web Analytics
This course will introduce students to the fundamentals of web analytics, including metrics like web traffic and how long customers spend at pages. Students will learn to use Google's online and offline software tools.
MBA 590 Social Entrepreneurs Leading Change
The aim of this course is to study "the triple bottom line." Social enterprises utilize the business itself to serve as a vehicle for social change. As business leaders, social entrepreneurs want to improve the common good and solve a social problem.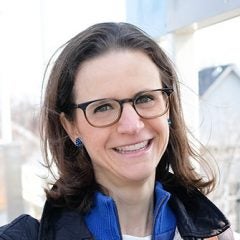 "Choosing UIC for my MBA has been one of the best professional and personal decisions I've made as I continue to advance my career. Flexibility and affordability met with superb advising, widespread course offerings, a diverse and knowledgeable student body, and fantastic professors made my MBA valuable. I cannot thank UIC enough!"

|
Credits and Courses
The MBA program is 54 credits in length composed of 26 credits of core courses and 28 credits of electives. Your core courses introduce the fundamental concepts needed to understand the many facets of a complex organization and provide a foundation for further, more in-depth functional business study.
The core curriculum consists of the following seven courses:
Financial Accounting (4 credits)
Corporate Finance (4 credits)
Marketing (4 credits)
Microeconomics (4 credits)
Operations Management (4 credits)
Organizational Behavior (4 credits)
Capstone Course: Enterprise Strategy (2 credits) OR Strategic Managment (4 credits)
Tuition
UIC Business is part of a public research university, so tuition and fees vary by residency. Also, because our programs offer flexible options, our tuition varies based on the number of classes you are taking each semester. To calculate your tuition and fees, please visit the Tuition Information page.
Don't forget, UIC Business offers graduate assistantships, scholarships and partial tuition waivers. Ask an admissions representative about the many options we offer to help you afford your education.
Accounting
Accounting is the language of business. With this concentration, you'll learn how to maintain the financial health of an organization.
Sample of courses:
Financial Accounting
Management Accounting
Financial Statement Analysis
Taxes and Business Policy
Business Analytics
Students master the use of data and models for business decisions, and how to leverage 'big' data and analytics for competitive advantage. MBA students within the Business Analytics concentration are prepared to meet demand in one of the most rapidly expanding fields in business.
Sample of courses:
Business Data Mining
Data Visualization
Social Media and Network Analysis
Analytics Strategy and Practice
Statistical Models and Methods for Business Analytics
Economics
Economics gives you an in-depth look at what drives businesses and consumers. This concentration focuses on applied economics with a focus on health, education and urban issues.
Sample of courses:
Managerial Economics
International Economics for Business
Labor Economics
Econometrics
Entrepreneurship
With this concentration, you'll learn how to evaluate the risks and rewards of a new venture, skills which can be applied to both new and existing businesses.
Sample of courses:
Social Entrepreneurship
Startup Launch
Entrepreneurial Electronic Commerce
Business Models for Technology Ventures
Finance
Students gain a better understanding of financial assets and how to manage risks and investments.
Sample of courses:
Corporate Finance
Portfolio Analysis
Financial Decision Making
Risk Management
Human Resource Management
Aligned with the Society for Human Resource Management (SHRM), this concentration is geared toward students interested in managing the people side of an organization including recruitment and selection, training and development, performance management, employment law, global human resource management and managing a diverse workforce.
International Business
Get a closer look at the global business environment. If you are looking to work abroad or for a large multinational company, these courses will deepen your understanding of business on a global scale.
Sample of courses:
International Finance
International Management
International Business Operations
Global Innovation Management
Management
This concentration focuses on mastering the knowledge to lead people and organizations with an understanding of human resource management, strategic management, leadership, managerial skills and logistics.
Sample of courses:
Competitive Strategy
Human Resource Management
Negotiations
Organizational Design
Management Information Systems
With a concentration in MIS, you'll learn how to design and manage information and IT systems in ways that have a direct impact on strategy and operational decisions.
Sample of courses:
Information Systems Strategy and Policy
Innovation and Technology Change
Enterprise Information Infrastructure and Security
Audit and Control of Information Systems
Enterprise Application Development
Marketing
Students in this concentration develop a strong understanding of the entire marketing process in business from research and product development to communications planning and measurement.
Sample of courses:
Marketing Communication and Promotional Strategy
Marketing Channels Management
Product Planning
Services Marketing
Operations and Supply-Chain Management
MBA students in this concentration study the strategic management and operation of global supply chains, the flow of goods and services and complex business processes.
Sample of Courses
Supply Chain Management
Global Sourcing and Logistics Managing Service Operations
Quality Control and Lean Process Management
Revenue Management
Real Estate
Combining economics, finance, and urban planning students gain a full perspective of the field of real estate with an emphasis in urban real estate markets using metropolitan Chicago as a working laboratory.
Sample of Courses
Real Estate Finance
Urban Real Estate and Land Economics
Urban Economics
Investments
Self-Directed
If the other concentrations don't fit the career path you are building, work with an adviser to develop one.
Study Abroad Programs
Interested in studying outside of the United States? UIC Business offers several opportunities to study abroad.
Doing Business in Brazil
Doing Business in Brazil is a two-week course in Sao Paulo, Brazil, at the Fundacao Getulio Vargas, considered one of the top business schools in South America. This English-language course covers Brazilian and South American business issues, the political and social climate, national culture, consumer marketing and Mercosur. MBA students receive four elective credits for participating in the program.
Know Europe
Know Europe is a four-week course, through the ESC Normandy. Study is organized in Brussels, Belgium; Haarlem, Amsterdam; Paris, Le Havre and Caen, France; and Barcelona, Spain. Professors are drawn from Europe, the United Kingdom and Australia. The program includes meetings with local businesses, field visits to seats of European government and presentations on major aspects of European administration and culture. MBA students receive six elective credits for participating in the program.
Online courses are often very different than traditional on-campus courses in terms of how the material is presented, the nature of the interaction among class members and the overall learning experience. However, the course load is at the same level as the face-to-face version; the only amount of time saved is your commute time to and from campus. Our online courses use the Blackboard software. Select courses are offered online, and offerings vary each semester.

Yes. The UIC Business online MBA delivers a high-touch student experience with online course work and optional synchronous sessions. The UIC Business Online MBA will offer four concentrations and accept new students five times a year.

The Online MBA is a Full Cost Recovery program and is not eligible for tuition waivers by University of Illinois employees.

MBA applicants are expected to have at least two years of business related work experience after the completion of a 4-year bachelor's degree. Historically, our typical admitted student had more than this level of experience prior to applying to the UIC Business MBA program.

Applicants may apply to a joint degree program during the initial application process, or they may apply to their second program upon gaining admission and enrolling in their first program.

First time applicants to UIC wishing to enroll in a joint degree program are required to apply separately to both programs, making sure to follow the application procedures/requirements for each program.

Current UIC graduate students interested in applying to a joint degree program should work closely with academic advisers in both programs and visit Business Connnect for additional instruction.

An undergraduate degree in business administration is not required. In fact, our Accelerated MBA Program is designed specifically for those with an undergraduate background in a non-business field. Approximately 50% of our student body does not have an undergraduate business background. We do recommend that students have had a class in statistics. If they have not, they can take one during their first semester.

You may be admitted to the Liautaud MBA Program on a non-degree basis only in the following two cases:

1. If you have already completed an MBA or other approved management degree from an AACSB accredited institution and wish to pursue further course work, you may enroll in MBA classes on a space-available basis as long as you maintain good academic standing. The application for admission and proof of MBA degree (a photocopy of your transcript or diploma showing a completed MBA degree) must be submitted by the application deadline for the desired term of study.

2. If you are currently enrolled in an MBA program at another AACSB institution and wish to take courses that will be accepted by your university as transfer courses, you may enroll in MBA courses to the extent approved by your MBA program and by the MBA Program. The MBA application for admission, application fee, proof of baccalaureate degree and letter from the director of your MBA program indicating that you are in good academic standing and list the courses approved to be transferred must be submitted by the application deadline for the desired term of study. You may also be asked by the admissions committee to provide additional information regarding your academic credentials.