Coming Soon: UIC Business Career Closet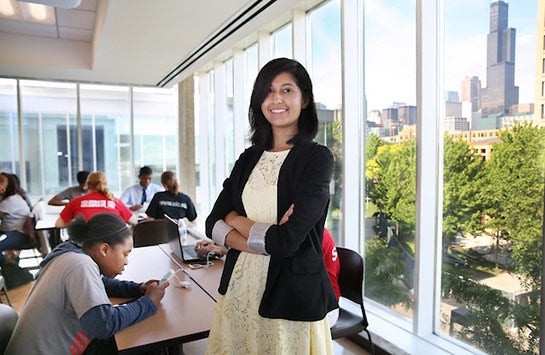 The UIC Business Career Closet will launch in spring 2022, and is now open for donations. The goal is to provide all UIC Business students with access to new and gently used business attire for career fairs, interviews and internships. We are asking staff, faculty and alumni for donations of gently used business attire in order to start this initiative. Help our students look as prepared for the part as they are.
Donations to the UIC Business Career Closet will be accepted at the Business Career Center in Douglass Hall on Tuesdays and Thursdays in August and daily starting in September. Please contact Rita Bieliauskas for more information.
What can be donated?
We are looking for new or gently-used business casual to business professional clothing for men and women, in all sizes that are less than five years old. It is preferred that all donations are clean and neatly folded or dry-cleaned and hung on a hanger. Acceptable donations include the following:
Sample women's business attire:
Suits and separates (jackets, blazers, pants, skirts and dresses) in neutral colors (black, navy, gray and khaki)
Collared shirts and blouses in solid colors or with simple patterns
Black, brown, or nude closed toes shoes (flat or less than three-inch heels)
New dress socks in neutral colors (black, navy, gray and tan)
Fashion scarves
Handbags in neutral colors
Sample men's business attire:
Suits and separates (jackets, blazers, and pants) in neutral colors (black, navy, gray and khaki)
Collared shirts in light and non-bold colors, solid or simple patterns
Solid color ties or ties with simple patterns
Black or brown belts
Black or brown lace-up shoes
New dress socks in neutral colors (black, navy, gray and tan)
Modified on October 01, 2021