Manny Favela '88 Delivers Captivating Reflections During the Spring 2022 UIC Business Commencement Ceremony
Manny Favela '88 Delivers Captivating Reflections During the Spring 2022 UIC Business Commencement Ceremony Heading link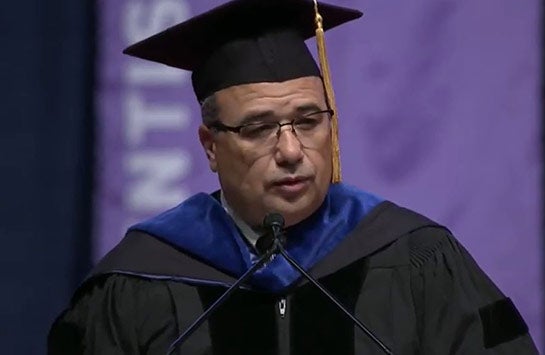 Alumnus Manny Favela, BS '88, imparted words of wisdom to graduates during the Spring 2022 UIC Business Commencement Ceremony. Manny, co-founder of Burrito Parilla Mexicana and retired CFO of McDonald's Latin America, shared stories of his rise against the odds as an immigrant and a first-generation college student. Manny's speech described his mother's commitment to providing him with support throughout his youth.
He continued by offering graduates powerful words of advice, citing the importance of being generous and defining success. Manny also encouraged graduates to remain authentic in all situations. "Bring your faith, culture, and personality wherever you go," he began. "It's okay to think differently, but be known for your candor and transparency; and never, never compromise your values and integrity."
Listen to Manny Favela's reflections at the 52:23 mark of the Commencement recording.
Modified on June 22, 2022