Melissa Martin Brings Fresh Perspective to Managerial Accounting
Melissa Martin Brings Fresh Perspective to Managerial Accounting Heading link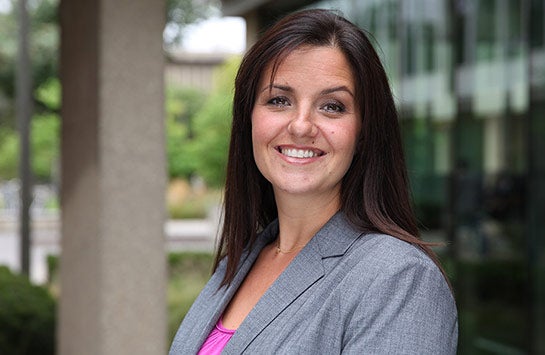 CEO compensation has been a topic of public debate since the 2008 crisis. Melissa Martin, a new addition to the UIC Business accounting faculty, zooms in on how managers are paid and how the public reacts to the pay managers receive.
"It's important to look at compensation across a firm's lifecycle," says Martin, who received her PhD from the University of Southern California. "A firm that is entering new markets may have a different incentive structure from a mature firm or one on the decline." These incentive structures can determine what CEO pay looks like. "A growth firm may rely more on equity compensation. In comparison, managers at mature firms may look like they're taking too much cash out of their firms."
Martin's research looks at a number of compensation factors. "Among roughly 1,500 major firms in the last 25 years, only 140 CEOs have moved from one to another. Each move is a valuable opportunity to ask, who holds power in the CEO labor market? The manager, due to demand for talent? Or the firm, because they write the paycheck?"
Martin got her start doing field research, and has slowly moved into database work. "Fieldwork can be difficult to generalize, and thus difficult to publish." But that doesn't mean it isn't rewarding.
"I'm currently researching a firm's use of threshold incentive, where staff earn salaries up to a threshold, beyond which they go on commission. However, if they then sink below that threshold, the difference is paid back out of their next commission. It's a rare incentive structure in which all kinds of new questions can be asked, questions that don't appear in the one-size-fits-all compensation models I see in most database work."
In her teaching at UIC, Martin hopes to instill a practical understanding of the vast differences between managerial and financial accounting. "First and foremost, I am excited to join the faculty at UIC and to be a part of the growing UIC Business program. That this is happening in Chicago, one of a very limited number of world-class business cities, means a new set of opportunities for the students and faculty of UIC Business."
Modified on April 10, 2019