UIC Business Scholar, Entrepreneur Featured on Shark Tank
Martin Dimitrov, UIC Business sophomore, swims with the Sharks
UIC Business Scholar, Entrepreneur Featured on Shark Tank Heading link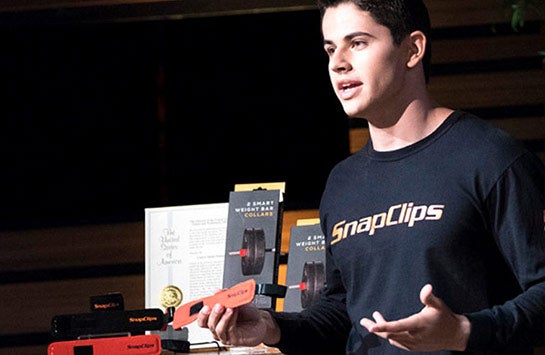 Four years ago, then a junior at Wheeling High School, Martin Dimitrov came up with an idea to solve a common problem for an assignment. From there, SnapClips was born. On Sunday, January 28, Martin and SnapClips product were featured and received investment offers on the nationally televised show, Shark Tank.
SnapClips are weight collars used to secure free weights to a barbell when lifting weights. Product design is based on the fun 90's slap bracelets, and SnapClips has recently secured a U.S. Utility Patent on the design.
SnapClips started as an idea in Martin's high school Entrepreneurship class. The product aimed to replace the ill-functioning and worn out weight collars used during gym classes. With just $100, Martin made a prototype, and went on to win the D214 Entrepreneurship Pitch Night 2016. From there, a Kickstarter campaign was launched and generated more than $23,000 of orders in one month.
Currently a full time student at UIC Business, Martin balances a 3.6 GPA and a full-fledged company. A company with a very bright future.
Modified on March 18, 2019