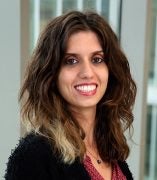 Ecem Basak
Doctoral Student in Management Information Stystems
Department of Information and Decision Sciences
About
Experience
Teaching Assistant, University of Illinois at Chicago, 2016 - Present
Research Assistant, Istanbul Technical University, 2012 - 2016
Classes Taught
Teaching Assistant, IDS 200 Introduction to Management Information Systems, IDS 201 Introduction to Business Programming, IDS 515 Information Systems Strategy and Policy, IDS 570 Statistics for Management, IDS 532 Introduction to Operations Management.
Research Interests
Complex systems
Online social networks
Selected Publications
Basak, E., Tafti, A., & Huang, P. (2018, December). Network topology and tie strength in online communities of practice. In International Workshop on Complex Networks and their Applications (pp. 377-387). Springer, Cham.
Basak, E., Calisir F. (2015). An empirical study on factors affecting continuance intention of using Facebook. Computers in Human Behavior, 48, 181-189.
Basak, E., & Calisir, F. (2014). Uses and gratifications of LinkedIn: An exploratory study. In Proceedings of the World Congress on Engineering (Vol. 2, pp. 2-4).
Basak, E., Ekmekci, E., Bayram, Y., & Bas, Y. (2013). Analysis of factors that affect the intention to leave of white-collar employees in Turkey using structural equation modelling. In Proceedings of the World Congress on Engineering and Computer Science (Vol. 2).
Notable Honors
2016 - Present, University of Illinois at Chicago Doctoral Scholarship and College of Business Administration Doctoral Fellowship, University of Illinois at Chicago
2014, Best Student Paper Award of the 2014 International Conference of Manufacturing Engineering and Engineering Management (WCE'14), International Conference of Manufacturing Engineering and Engineering Management
2013, Certificate of Merit (Student) for the 2013 International Conference on Systems Engineering and Engineering Management (WCECS'13), International Conference on Systems Engineering and Engineering Management
2011, Dean's Honor List, Istanbul Technical University
Education
PhD, Management Information Systems, University of Illinois at Chicago, May 2021 (Expected)
PhD, Industrial Engineering, Istanbul Technical University, May 2016 (Passed the qualifying exam)
MSc, Industrial Engineering, Istanbul Technical University, May 2014
Erasmus Exchange Program, Industrial Engineering and Management, University of Minho, Spring 2009
BSc, Industrial Engineering, Istanbul Technical University, May 2011
Research Currently in Progress
Peer effects on learning and contribution in online communities of practice
Impacts of ride-sharing services on urban mobility