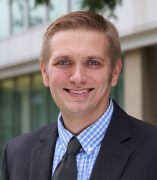 Daniel Hogan
Lecturer
Managerial Studies Department
Contact
Address:
601 S. Morgan St. (MC 243)
Office Phone:
Email:
CV Link:
About
Courses Taught:
Intro to Entrepreneurship
Entrepreneurial Finance
New Venture Planning
Corporate Sustainability and Responsibility
Marketing Research
Selected Publications
DeBerry-Spence, B., Ekpo, A. E., & Hogan, D. (2019). "Mobile Phone Visual Ethnography (MpVE): Bridging Transformative Photography and Mobile Phone Ethnography," Journal of Public Policy & Marketing, 38(1), 81-95.
Education
MBA, University of Illinois at Chicago, 2013
BS in Education, Illinois State University, 2000
Selected Presentations
Nakata, C., Hogan, D., Sharp, L., Spanjol, J., Cui, A.S. (2016) "A consumer-based model of medication adherence in the lived context of chronic illness" AMA Winter Conference, Las Vegas, NV.
DeBerry-Spence, B. and Hogan, D. (2016) "Mobile phone visual ethnography: Emerging methodological insights for transformative research" Subsistence Marketplaces Conference, Champaign, IL.
Hogan, D. (2016) "Co-creating impact: Customer co-production and co-creation in the context of peer-to-peer fundraising" AMA Summer Conference, Atlanta, GA.