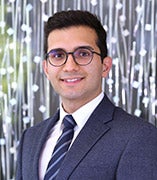 Moh Hosseinioun
Doctoral Student in Management Information Systems
Department of Information and Decision Sciences
Pronouns: He/Him/His
Contact
Building & Room:
University Hall 2432
Address:
601 S. Morgan St., Chicago, IL 60607
Email:
Related Sites:
About
Moh Hosseinioun is a Computational Social Scientist and a Ph.D. candidate in Management Information Systems. He is interested in the interface of technology and human knowledge. His work has focused on technological innovation, the future of work, and organization theory. He uses computational methods, network theory, machine learning, and econometrics in his research.
For updates on recent projects, upcoming events and the scope of his research, visit his website at mohhosseinioun.com