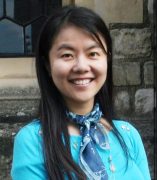 Xiaoqing Hu
Clinical Associate Professor
Department of Finance
Selected Publications
"Closing and Cloning in Mutual Funds," with Hsiu-Lang Chen, Sheldon Gao, Journal of Banking and Finance, Vol. 36, 2012.
"Household Investment: the Horizon Effect?" with Ping He, Review of Behavioral Finance, 2010.
o "Portfolio Choices for Homeowners," Journal of Urban Economics, 2005, No. 1, p114-136.
"Households' Savings and Portfolios," Investment Management and Financial Innovations, 2004, No. 3.
Notable Honors
March 2004, Distinguished Paper Award, McGraw-Hill/Irwin
Education
Ph.D. in Finance, J. L. Kellogg Graduate School of Management, Northwestern University