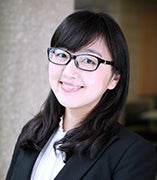 Jiaqing Kathy Sun
Doctoral Student in Business Administration: Human Resource Management
Department of Managerial Studies
About
Research Interests
Leadership
Moral emotions
Change (in emotions and behaviors)
Selected Publications
Sun, J., Li, W., Li., Y., Liden, R. C., Li, S., & Zhang, X. (Forthcoming). Unintended consequences of being proactive? Linking proactive personality to coworker envy, helping, and undermining, and the moderating role of prosocial motivation. Journal of Applied Psychology.
Sun, J., Liden, R. C., & Ouyang., L. (2019). Are servant leaders appreciated? An investigation of how relational attributions influence employee feelings of gratitude and prosocial behaviors. Journal of Organizational Behavior, 40, 528–540.
Motyl, M., Demos, A. P., Carsel, T. S., Hanson, B. E., Melton, Z. J., Mueller, A. B., Prims, J. P., Sun, J., Washburn, A. N., Wong, K. M., Yantis, C., & Skitka, L. J. (2017). The state of social and personality science: Rotten to the core, not so bad, getting better, or getting worse? Journal of Personality and Social Psychology, 113, 34–58.
Wu, S., Sun, J., Cai, W., & Jin, S. (2014). The bad apple effect and social value orientation in public-goods dilemmas: Replication and extension of research findings, Psychological Reports, 114, 866-879.
Guan, Y., Deng, H., Sun, J., Wang, Y., Cai, Z., Ye, L., Fu, R., Wang, Y., & Li, Y. (2013). Career adaptability, job search self-efficacy and outcomes: A three-wave investigation among Chinese University graduates. Journal of Vocational Behavior, 83, 561-570.
Notable Honors
2019, SIOP Graduate Student Scholarship ($3,000 awarded), Society for Industrial and Organizational Psychology
2018, Greenleaf Scholarship ($2,500 awarded), Greenleaf Center for Servant Leadership
2017, Greenleaf Scholarship ($2,500 awarded), Greenleaf Center for Servant Leadership
Education
Ph.D. Candidate in Organization Behavior and Human Resource Management, University of Illinois at Chicago
Ph.D. in Social Psychology, Beijing Normal University, 2012
BA in Psychology, Beijing Normal University, 2007