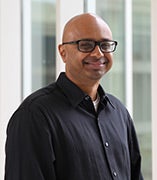 Ranjit Souri
Director of Student Professional Development Program - iLEAD and Lecturer
iLEAD Professional Development Program
Pronouns: He, Him, His
Contact
Address:
601 S. Morgan Street
Office Phone:
Email:
CV Link:
Related Sites:
About
Ranjit Souri is a Director of Student Professional Development Program – iLEAD and Lecturer at the University of Illinois at Chicago, where he teaches Business Communication and Professional Development.
He has performed comedy on stages throughout the USA. He has co-written and performed in numerous comedy shows for the stage with Cupid Players, Paper Monkeys, Stir-Friday Night!, and Siblings of Doctors (an Indian-American comedy trio along with Rasika Mathur of MTV's "Wild 'n Out" and Danny Pudi of NBC's "Community"). He has improvised many one-act plays with the dramatic improvisational group Doubleplay. He is also a solo comedy performer and has played at Chicago venues such as ImprovOlympic, Chicago Underground Comedy, and The Lincoln Lodge.
Ranjit is also a magazine-essayist, and has appeared as an essayist on Chicago Public Radio and Cincinnati Public Radio. His essay "Fireworks and Beethoven" was named a Notable Essay in the book The Best American Essays 2007.
He has extensive experience working as a test prep tutor, having taught all sections of all these tests: ACT, GMAT, GRE, LSAT, and SAT.
Ranjit has a B.S. in Accounting from Case Western Reserve University and an MBA from Columbia University, where he served as a Teaching Assistant in Accounting and Mathematics. He has also passed the CPA exam.
Ranjit has been a faculty member at The Second City in Chicago for 10 years. He teaches Improvisation, Sketch Writing, and Stand-up Comedy, to all age groups from young children to adults. He has also taught at The Center for Talent Development at Northwestern University, and at the Public Speaking & Communications Group at the University of Chicago.
Notable Honors
2017, 2019, Dean's Letter of Recognition for Outstanding Teaching, UIC Business
Education
MBA, Columbia University, Concentrations in Accounting and Nonprofit Management
B.S. in Accounting, Case Western Reserve University