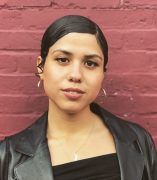 Marcel Rosa-Salas
Assistant Professor of Marketing
Pronouns: She/Her/Hers
About
I am an anthropologist of consumer culture who studies how marketers produce ideas about race and identity in the United States.
Selected Publications
'Worth more than just its weight in gold': Nameplate Jewelry and the Practice of Oppositional Respectability," Journal of Marketing Management (in press)
"Making the Mass White: How Racial Segregation Shaped Consumer Segmentation," in G.D. Johnson, K.D. Thomas, A.K Harrison and S. G. Grier (eds)., Race in the Marketplace: Crossing Critical Boundaries. New York: Palgrave Macmillan.
"Say My Name: Nameplate Jewelry and the Politics of Taste," QED Journal 4, no. 3, Fall/Winter 2017.
"The Limits of Equality Branding," In Media Res: A MediaCommons Project, March 2017.
Notable Honors
2020, Faculty Fellowship, Institute for Research on Race and Public Policy (IRRPP), University of Illinois at Chicago
2018, Dissertation Fieldwork Grant, The Wenner-Gren Foundation
2016, Predoctoral Fellowship, Ford Foundation
Education
PhD in Cultural Anthropology, New York University, 2020
BA, Africana Studies, University of Pennsylvania , 2013
Professional Memberships
Race in the Marketplace
Critical Race and Digital Studies
Selected Presentations
"'Reaching Verified Hispanics': Digital Advertising, Ethnoracial Data, and the Right to be Surveilled." Research Talk at the Data & Society Research Institute, New York, New York. January 29, 2020.
"Intersectionality, Inc.", Race in the Marketplace Research Forum. Université Paris-Dauphine, Paris, France, June 27-29, 2019.
"'You Can't Manage What You Can't Measure': Surveillance Capitalism and the Racial Politics of Data Representation," Digitizing Race: Making Latinx's in the 21st Century Conference. New York University, March 8, 2019.
"Documenting the Nameplate," with Isabel Flower for On Air Fest, Wythe Hotel, Brooklyn, March 2, 2019.
Research Currently in Progress
Multicultural advertising in the United States
Racially targeted digital advertising strategies and data privacy policy
"Documenting the Nameplate," an open call photography book project about nameplate jewelry culture
Artistic and Professional Performances and Exhibits
2018 The Music Sounds Better with Whom?: The Impact of Artificial Intelligence on the Music Experience (20 min.) Producer. Winner, Best Documentary, Toronto Shorts Film Festival
2017 Ode to Fazil's (18 min.) - Director, Producer & Editor
2015 Gonna Sip that Sip and Hit that Dip: The Emerging Queer Hip Hop Movement (13 min.) - Lead Producer and Researcher. Jury Award for Best Documentary Short, Chicago LGBT International Film Festival
2015 iDentity (10 min.) - Director, Producer & Editor
2013 Chasing Real (23 min) Co-Director, Producer and Editor.
2008 Sticks and Stones (12 min.). Co-Director, Producer and Editor. Winner, Princeton Prize in Race Relations 2008.