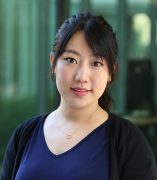 Tianyi Li
Doctoral Student in Business Administration: Marketing Emphasis
Department of Marketing
About
Class Taught
Research Interest
Consumer Behavior
Judgment and Decision Making
Impression Formation
Health Marketing
Selected Publications
Li, T., & Gal, D. (2021). "The Marlboro men don't cry: Understanding the gendered perceptions of people seeking mental health care" Journal of Experimental Psychology: Applied, forthcoming.
Handley, G., Kubota, J. T., Li, T., & Cloutier, J. (2019). "Black 'Reading the Mind in the Eyes' task: The development of a task assessing mentalizing from black faces." PloS one, 14(9), e0221867.
Mattan, B. D., Kubota, J. T., Li, T., Venezia, S. A., & Cloutier, J. (2019). "Implicit evaluative biases toward targets varying in race and socioeconomic status." Personality and Social Psychology Bulletin, 45(10), 1512-1527.
Cloutier, J., Li, T., Mišić, B., Correll, J., & Berman, M. G. (2017). "Brain network activity during face perception: the impact of perceptual familiarity and individual differences in childhood experience." Cerebral Cortex, 27(9), 4326-4338.
Li, T., Cardenas-Iniguez, C., Correll, J., & Cloutier, J. (2016). "The impact of motivation on race-based impression formation." NeuroImage, 124, 1-7.
Cloutier, J., Li, T., & Correll, J. (2014). "The impact of childhood experience on amygdala response to perceptually familiar black and white faces." Journal of Cognitive Neuroscience, 26(9), 1992-2004.
Lapate, R. C., Rokers, B., Li, T., & Davidson, R. J. (2014). "Nonconscious emotional activation colors first impressions: A regulatory role for conscious awareness." Psychological Science, 25(2), 349-357.
Cloutier, J., Norman, G. J., Li, T., & Berntson, G. G. (2013). "Person perception and autonomic nervous system response: The costs and benefits of possessing a high social status." Biological Psychology, 92(2), 301-305.
Education
PhD in Business Administration (Marketing), University of Illinois at Chicago
Artistic and Professional Performances and Exhibits