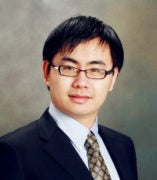 Yingda Lu
Assistant Professor
Department of Information and Decision Sciences
Contact
Office Phone:
Email:
CV Link:
Related Sites:
About
Experience
Assistant Professor of Information and Decision Sciences, 2017-present, University of Illinois, Chicago
Assistant Professor of Information Systems, 2013-2017, Lally School of Management, Rensselaer Polytechnic Institute
Classes Taught
IDS 400 Python for Data Analytics
IDS 401 Business Objective Programming using Java
Research Interests
Social Media, Machine Learning, Economics of AI, Structural Modeling
Selected Publications
Lu, Yingda, Youwei Wang, Yuxin Chen and Yun Xiong, "The Role of Experience on Routing Decision of Taxi Drivers: An Empirical Investigation using Large-Scale Sensor Data", Accepted at Production and Operations Management
Keran Zhao, Yingda Lu, Yuheng Hu and Yili Hong. "Direct and Indirect Spillover from Content Providers' Switching: Evidence from Online Live Streaming". Information Systems Research, Forthcoming,
Lu, Yingda, Yong Tan and Junjie Wu. 2022. "Microblogging Replies and Opinion Polarization: A Natural Experiment". MIS Quarterly, Vol. 46, No. 4, pp. 1901-1936
Jane, Tan, Yingda Lu and Yong Tan. 2021. "The Impact of Subscription Reciprocity on Charitable Content Creation and Sharing: Evidence from Twitter on Giving Tuesday". MIS Quarterly, Vol. 45, No. 2, pp.535-562.
Lu, Yingda, Param Singh and Baohong Sun. 2017. "Is Core-Periphery Network Good for Knowledge Sharing? A Structural Model of Endogenous Network Formation on a Crowdsourced Customer Support Forum". MIS Quarterly, Vol. 41, No. 2, pp. 607-628.
Lu, Yingda, Kinshuk Jerath and Param Singh. 2013. "The Emergence of Opinion Leaders in a Networked Community: A Dyadic Model with Time Dynamics and Heuristic for Fast Estimation". Management Science, Vol. 59, No. 8, pp. 1783-1799
Education
PhD in Management of Information System, Carnegie Mellon University
M.A. in Economics, University of Virginia
B.E. in Computer Science, Zhejiang University