UIC Entrepreneurial Support Program
Need help with your business?
The UIC Entrepreneurial Support Program helps new and established business owners start, scale and succeed in business. We work with you to find and access the tools and resources to build a prosperous venture. We work with both Chicagoland entrepreneurs, and students and faculty & staff at UIC. Funding and support come from UIC Business
Areas of Expertise
Consulting
If you would like to meet one-on-one with an experienced business consultant, we can help with:
Strategic planning
Industry and client research
Cash flow analysis
Business planning
Break-even analysis
Marketing strategies
Entrepreneur Assistance
Since 2002, we have helped over 2,000 entrepreneurs launch and grow their business in the following ways:
Introduced hundreds of new businesses
Created and retained jobs
Secured loans and equity funding
Successfully register patents
Applied for SBIR funding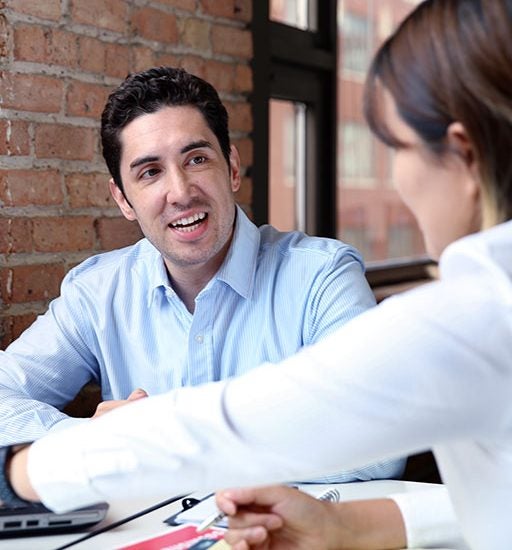 Business Clinic
Tuesdays 10 a.m. – Noon
Thursdays 2 – 4 p.m.
815 W Van Buren St, Suite 400
(312) 413-3278
Walk-in opportunities to meet one-on-one with a business adviser. Clients are seen in 30-minute intervals on a first come, first serve basis. Any business topic is fair; in the past we have addressed:
Existing business plans
Viability of business ideas
Discuss funding eligibility
Asses financial projections
Appointments are not required, but strongly encouraged. If you don't have a scheduled appointment, please call ahead to confirm availability. Appointments also make sure you can be seen in a timely manner. Can't make it in during Business Clinic to see an adviser? Send your business plan and questions to sbob@uic.edu.
Make an Appointment
Upcoming Workshops and Events
Meet the Team
Steve Bob
Director of Entrepreneurial Support Program
UIC Entrepreneurial Support Program
815 W Van Buren St., Chicago, IL 60607,
Rice Building, Suite 400,
Illinois
Resources for Entrepreneurs
GrowthWheel 360° Screening

Three ways to get focus

The GrowthWheel 360° Screening helps set perspective on your business. This will help you make sure that you don't leave out anything when deciding what to focus on next. There are three different types of screenings. Choose a type on the right and go through the simple process to get the right focus.

Assess your Status: How is your business going?
Go through the 20 Focus Areas and assess how well you think your business is doing at the moment. Score your business status within each Focus Area with 25%, 50%, 75%, or 100%. Finish your screening by adding a circle around 1 to 3 Focus Areas you want to work on now.
Assess your Opportunities: Where do you see possibilities?
Go through the 20 Focus Areas in the wheel and assess the opportunities you see for your business right now. Score your opportunities within each Focus Area with 25%, 50%, 75%, or 100%. Finish your screening by adding a circle around 1 to 3 Focus.
Assess your Skills: What do you need to learn?
Go through the 20 Focus Areas in the wheel and assess the competencies of yourself, your team, or your business. Score your skills within each Focus Area with 25%, 50%, 75%, or 100%. Finish your screening by adding a circle around 1 to 3 Focus Areas you want to work on now.

Get a 360° Perspective and do First Things First

The GrowthWheel® is a tool for decision-making in start-up and emerging companies to help entrepreneurs and advisers get focus, set agenda, make decisions, and take action.

| Business Concept | Customer Relations | Operations | Organization |
| --- | --- | --- | --- |
| Business Idea | Networking | Financials | Ownership and Brand |
| Product Portfolio | Marketing | Funding | Employees |
| Revenue Model | Sales and Service | Production and Deliveries | Partnerships |
| Customer Portfolio | Communication and Public Relations | IT Systems | Businesses Processes |
| Market Position | Branding | Facilities | Legal Issues |

Attractive Business Concept

Meeting or creating demand

Getting the right business idea and designing the right product portfolio. Selling it to the right customer segments using the right revenue model and doing so while maintaining a strong market position.

Lasting Customer Relations

Finding and keeping clients

Networking to get the right introductions. Choosing the right way to do marketing and organizing an effective sales process. Getting in the media and on the customer's agenda by handling communication and PR. Living the values that shape the branding of the products and company.

Strong Organization

Building teams and partnerships

Finding the right ownership and board, recruiting and developing the right employees. Outsourcing tasks through partnerships with suppliers and contractors and mapping core business processes. Having the legal framework in place for working together.

Profitable operations

Being productive. Making money

Making sure the right financial practices are in place and ensuring that there is enough funding for profitable investments to be made. Setting up the right production and delivery system to secure profitability, IT systems to make operations profitable, and facilities that make the operations effective.