Undergraduate Admissions
Thank you for your interest in UIC Business.
Our team is here to help you achieve your academic goals by guiding you through the admissions process. The UIC Business community is comprised of many talented individuals dedicated to your success as a student and a professional. We invite you to learn more about the opportunities and resources offered by exploring our website. We are working hard to make sure that our prospective and newly admitted students have opportunities to interact with campus. But we recognize that a reduction in on-campus events may impact your ability to participate in programming. We'll work to provide alternate options. For now, please stay connected with us using the link below.
We look forward to working with you!
The UIC Business Recruitment ​campus office is temporarily closed and staff will be working remotely until further notice. Please contact us by email at bizadmit@uic.edu if you have any questions or need assistance. Visit the COVID-19 response page for the most up-to-date information.
Upcoming Events
Tuesday, 12:00 pm–12:30 pm
Online
Tuesday, 6:00 pm–7:00 pm
Online
Wednesday, 9:30 am–10:00 am
Online
Thursday, 3:30 pm–4:00 pm
Online
Tuesday, 12:00 pm–12:30 pm
Online
Wednesday, 9:30 am–10:00 am
Online
Important Dates
Undergraduate Applications
UIC has reopened the first-year application and extended the transfer and readmission application deadlines.
Intent to Enroll
UIC has extended the Intent to Enroll deadline for first-year applicants to June 1.
In Their Own Words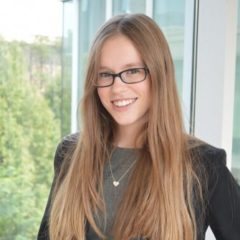 "I wanted to start interning early on, so I connected with the Business Career Center in my first semester. By the end of my freshman year, I'd secured a marketing internship at a prominent Chicago cultural organization."

|
First Year Applicants
A first year applicant is a current high school student (including those with college credit) or high school graduates who have not attended a college/university.
UIC Business utilizes a holistic approach to admissions where numerous criteria are reviewed for each individual applicant. Those factors include:
High school coursework and grade point average
ACT or SAT score
Cumulative High School Percentile Rank
Grade trend and course levels
Personal statement
A full list of application and other requirements is available on the UIC Admissions First Year Requirements page. To complete your application you must submit the following to the UIC Office of Admissions by the deadline:
Application
Application Checklist
$60 Application fee or fee waiver
Official transcripts from all high schools attended
Official ACT scores or SAT scores. Test scores listed on high school transcripts will be accepted as official. (UIC ACT test code: 1155; UIC SAT test code: 1851)
Personal statement
Official GED scores, if applicable
UIC Business Scholars is a selective leadership development and scholarship program for top performing, highly motivated undergraduates. Learn about the Business Scholars program and application requirements for first year applicants.
First-year applicants who missed the deadline to apply may submit a petition to request a late application.
Transfer or Readmit Applicants
You are considered a transfer student if you have earned college credit since graduating from high school. As a transfer student, you will be given access to advising, academic resources, extra-curricular and co-curricular opportunities at the only university in Chicago with a dedicated career center specifically for business students.
Guidelines for transfer applicants to Bachelor of Science (BS) degree programs:
A minimum of 24 credit hours at the time of application and 36 credit hours at the time of enrollment.
Recommended courses completed at time of enrollment:

English Composition I, English Composition II.
Complete one of the following math tracks: Track 1: Calculus I and Calculus II, Track 2: Business Calculus and Elementary Linear Algebra, Track 3: Calculus I and Elementary Linear Algebra (Finite Math may be substituted for Elementary Linear Algebra).

For fullest consideration, a 2.75 GPA is recommended but does not guarantee admission.
UIC Business does not admit non-degree students.
Applicants with international coursework will be required to submit a syllabus in English for all courses. A minimum of 3 semesters to graduate with a UIC Business bachelor's degree should be expected for international applicants with 3 or more years of undergraduate coursework.
Guidelines for transfer applicants to Bachelor of Business Administration (BBA) Degree Completion program:
UIC Business is unable to consider second bachelor's degree applicants. We encourage students to consider a master's degree program in lieu of pursuing a second bachelor's degree.
Information for Parents
For parent specific information regarding admissions and enrollment as well as a FAQ and links to get to know our campus better, please visit the UIC Admissions page.
At a Glance: UIC Business Undergraduate Programs
Learn more about a few of the many offerings at UIC Business with UIC Business Senior Admissions Counselor, Khair Sadrud-Din.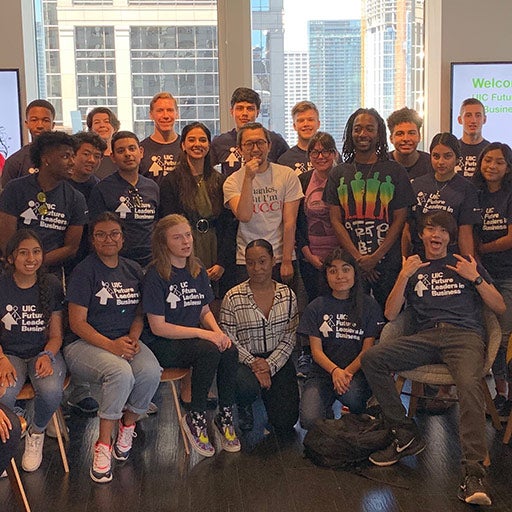 UIC Future Leaders in Business
The UIC Future Leaders in Business Program is a free 5-week summer experience designed for rising high school seniors. The goal of this program is to expose participants to the University of Illinois at Chicago campus and offer comprehensive programming in leadership development and career exploration while receiving academic instruction in the core business areas of accounting, finance, marketing, and management. This program also includes a one-week residential component in UIC Housing.
Learn More