Your future is our business.
As a UIC Business student, you'll get everything you need to succeed.
Leading experts as your professors, access to state-of-the-art facilities and resources, and a vibrant campus community right next to Chicago's thriving business center. It's all here.
We are working hard to make sure that our prospective and newly admitted students have opportunities to interact with our UIC Business community, and we are providing many opportunities to connect with us. From virtual events, to Live Chats and phone calls, we are here to answer your questions and provide you with information how our AACSB accredited program will help you succeed personally and professionally. Explore our undergraduate programs below and we look forward to working with you!
At UIC Business, we transform student potential into success. Our school connects students to Chicago's living classroom. We provide a proven education, real-world skills and professional experiences that add up to exciting career opportunities.
*According to U.S. News & World Report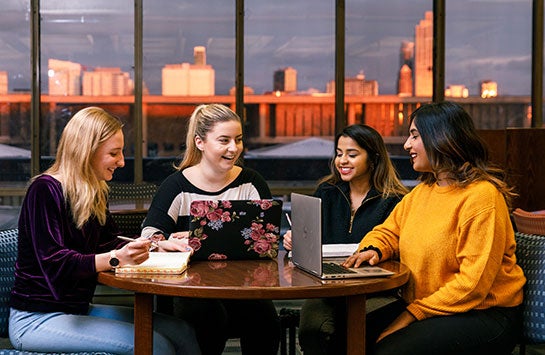 Every incoming first-year business student is part of a cohort designed to meet the unique academic, social, and professional needs of students during their first two years of college. Within these cohorts, students take many of the foundation courses in the UIC Business curriculum.
Features of the program include smaller class sizes, a Cohort Success Team, First-Year Seminar, and Cohort Captains. These cohorts are strategically designed to deliver the key combination of hard and soft skills to be successful in the workplace.
Mayra Hernandez
College Recruiter: Transfer
Khair Sadrud-Din
Senior College Recruiter: Transfer