Institute for Leadership Excellence and Development (iLEAD)
World-Class Research for Today's Business World
Since 1991, business leaders in Chicago and beyond have turned to iLEAD to conduct applied research that provides actionable results for solving people-related workplace challenges.
Our client projects provide a comprehensive, detailed analysis on the topic of focus and evidence-based recommendations to address challenges and effect workplace change.
Improving management practice and leadership effectiveness through research, education and training.
As part of Chicago's world-class public research university, the Institute for Leadership Excellence and Development (iLEAD) at the University of Illinois at Chicago (UIC) partners with businesses to conduct customized client projects that:
Provide a thorough diagnosis of the primary causes of workplace challenges
Identify actionable solutions to these challenges
Track improvement on key outcomes such as individual, team, and organizational performance
Sample Client Topics
Leading individuals and teams
Creating a servant leadership culture
Achieving high performance through effective leadership
Managing work-life stress
Exploring the drivers of employee engagement
Identifying the predictors of upward mobility of under-represented employees
Investigating the role of mentoring in employee development
Assessing individual, team, leader, and organization effectiveness
Example iLEAD Clients
Allstate Insurance
Avasure
Bristol Meyers Squibb
Caterpillar
Jason's Deli
Motorola
UPS
United States Gypsum (USG)
Wheaton Park District
The iLead Process
Discussion of the problem area including causes and consequences
Problem domain and project parameters identified
In-depth analysis of prior research on issue
Research design to impact critical outcomes
Selection of valid and reliable measures
Data collection
Data-appropriate statistical analyses
Evidence-based recommendations
Formal presentation of findings
Quote for a customized iLEAD project available upon request.
iLEAD helps business leaders discover the information they need to bring value to their companies through improved performance.
Testimonials
The iLEAD research project on servant leadership has provided a remarkable insight into a myriad of opportunities to enhance our greatest asset – our culture. Dr. Sandy Wayne and doctoral student Eric Michel presented a professional interpretation of the data that both educated and inspired our executive team. We are so very grateful for this relationship.

Founder and Chairman of the Board, Jason's Deli

|
Client Projects
Client: Jason's Deli

Business Challenge

Measure the impact of corporate servant leadership initiatives within the delis and how they contribute to deli effectiveness.

ilead Custom Research Solution

Managers and employees from 76 delis participated in the study by completing a survey designed to address the specific business challenge. Deli financial outcomes were linked to the survey data.

Evidence-Based Insights

Results indicated that deli general managers who engaged in high levels of servant leadership established a culture that positively impacted employee performance and overall deli financial outcomes. The results have been instrumental in designing the socialization and training of new deli general managers.

Client: United Sates Gypsum (USG)

Business Challenge

Identify critical drivers of employee engagement and how they can be leveraged to enhance employee performance.

ilead Custom Research

Conducted a web-based survey of the salaried workforce to identify drivers and barriers to employee engagement.

Employee engagement was assessed as the strength of the overall relationship between the employee and the company and included satisfaction with job, career, manager, work group, and company.

iLEAD Insights

Results indicated that employees who reported higher levels of engagement were higher performing, more committed to the company,
and were less likely to search for employment opportunities elsewhere.
Key drivers of employee engagement included:

Job characteristics: autonomy and job security
Relationship with manager: quality of the overall relationship, trust, mentoring and feedback received, support for balancing work and family
Relationship with company overall: recognition received, quality of the overall relationship, trust in top management
Career opportunities and career support, fairness of promotions

Client: Wheaton Park District (WPD)

Business Challenge

Identify key drivers of employee productivity, such as job performance, helping behaviors, counterproductive behaviors, and safety participation.

ilead Custom Research

A range of individual, leader, team, and organizational factors were analyzed in an effort to identify the most important WPD-specific elements to improve effectiveness and employee well-being. An annual survey of 400 employees and supervisors, using the iLEAD mobile tablet laboratory, yields an annual custom report of key findings.

ilead Insights

Results indicate that the most effective ways to improve individual performance were related to leadership enhancement and led to the following recommendations:

Develop and implement servant leadership and relevant soft skills training for all supervisors
Foster positive team culture and enhanced leader-follower relationships through supervisor engagement and a well-communicated organizational vision from top management
Hire and promote managers with well-developed leadership skills

Client: Increasing Diversity in Management

Business Challenge

Determine actionable ways to increase representation of people of color and women in management.
Determine key drivers of upward mobility.
Identify barriers of upward mobility for people of color and women.

Company Overview

Publicly-traded international financial services provider.

iLEAD Custom-Research Solution

Administered an on-line survey designed to capture employees' work and career-related experiences at the financial services firm. Employee participants were diverse in race/ethnicity and gender.
Conducted an on-line survey of managers' assessments of participating employees' managerial skills, leadership competencies, and promotability.

Evidence-Based Insights

Key drivers of upward mobility:

Qualities of the employee: managerial competencies, task-related and interpersonal skills, leadership confidence, and managerial aspirations.
Work relationships: professional reputation, feelings of inclusion and support from peers, mentoring by managers.
Direct manager: high-quality relationship with direct manager who provides on-the-job, career-enhancing opportunities.
Organizational culture and support: employee fit with values of the firm and provision of developmental opportunities.

Barriers to upward mobility for under-represented groups:

African American and Hispanic/Latino employees received fewer developmental opportunities such as stretch assignments, special projects, lateral movements, and coaching/feedback.
Women, compared to men, reported a lower-quality relationship with their direct manager and receiving fewer on-the-job, career-enhancing opportunities.
Across all employees (men/women and race/ethnicity), the promotion system was viewed as highly subjective and low on fairness.

iLEAD Recommendations

Increase manager accountability for developing a diverse pool of talent.
Support managers in providing developmental job experiences, especially for under-represented employees.
Address women's work-life balance concerns by expanding flexible work schedules and others forms of support.
Enhance transparency and objectivity of promotion process.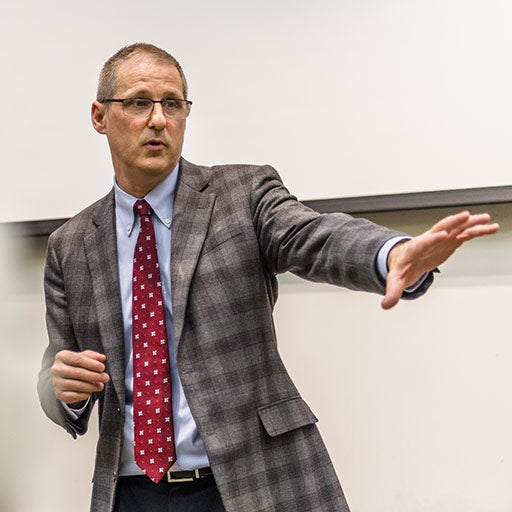 iLEAD in the Classroom
In addition to receiving a research-based business education, UIC Business students take their education one step further, moving past scholastic achievement to what's needed to lead in business today. iLEAD gives students training in the key competencies that employers seek: written and verbal communication, teamwork, problem solving, decision making, confidence and self-awareness, and relationship building. The professional development program instructors draw from the training modules of improvisational theater—connecting with people in the moment, responding spontaneously, and being ready for anything.
iLEAD Professional Development Program