Student Life at UIC Business
UIC Business is home to a number of student organizations who host monthly events, including guest speakers, volunteer opportunities and networking socials.
Student organizations are a great opportunity to make new connections, take on leadership roles, learn new skills and forge new friendships. Our business-specific groups include:
The Business Learning Center
The Business Learning Center is a space designed by and for business students. It is a place for students to meet, study and share ideas. The Business Learning Center hosts monthly workshops and offers tutoring sessions for anyone who needs a little help with their classes. Students are encouraged to utilize the Business Learning Center to meet and connect with their classmates.
Campus Living
Headlines and Hashbrowns – Bill Kohler
Professor Bill Kohler and his wife Sharon are residents of Marie Robinson Hall. They interact with students on a daily basis and host a monthly Hashbrowns and Headlines breakfast on Sunday mornings.
Cats, Chats and Chews – Rob Kemp
Professor Rob Kemp is the faculty-in-residence at Thomas Beckham Hall. He shares his dorm with Crockett and Lucky (Felines in Residence) and has preached the virtues of accounting at UIC for 15 years. On Wednesday nights, he hosts a triweekly "Cats, Chats and Chews."
Networking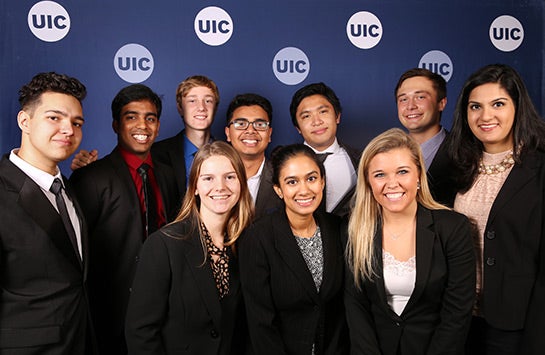 The UIC Business Alumni Network is 37,000 strong. Each year, they hold events so that students can make the powerful connections they need to succeed in the business world. The annual UIC Business Graduation Party is held the first Wednesday after graduation and is a one of the most popular events of the year. Celebrating UIC Business is another annual event that brings together students and alumni. This scholarship banquet gives us the opportunity to recognize our hard-working students and the donors who support them.
Living Classroom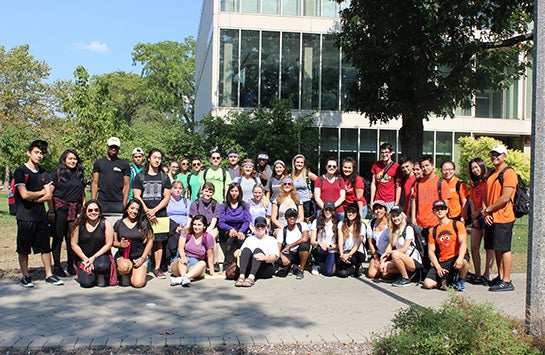 At UIC Business, we believe learning can occur anywhere—not just in the classroom. Faculty host field trips, corporate visits, events, volunteer opportunities and even team-building relay races. These activities are designed to help students build skills like leadership, teamwork and networking.