Student Life at UIC Business
At UIC Business, we believe learning can occur anywhere—not just in the classroom.
Students are exposed to faculty-hosted field trips, corporate visits, events, volunteer opportunities and even team-building relay races. This well-rounded curriculum is designed to help students build soft skills such as leadership, teamwork and networking, as seen in our Professional Development Program.
A Day in the Life of a UIC Business Student With Saskia Simorangkir Heading link
Student organizations are a great opportunity to make new connections, take on leadership roles, learn new skills and forge new friendships. Our business-specific groups include:
Undergraduate Student Organizations
Undergraduate Student Organizations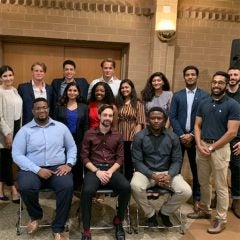 "The most rewarding aspect of being involved in a student organization is that you will get the opportunity to interact with your peers who have similar aspirations and a chance to build professional relationships adding immense value to the learning experience."

|
Business Ambassadors
UIC Business Ambassadors serve as representatives for college-hosted events, including Open Houses, Onboarding, Commencement, IGNITE, and other college-wide functions. The Business Ambassador Program was developed to activate student leaders in support of UIC Business outreach opportunities. They are leaders and role models on campus who introduce student life and represent the university as a positive, inclusive, and dynamic learning and living environment. Ambassadors work both on and off campus to support activities and represent the University.
As Business Ambassadors, involvement includes participation in both recruitment and events as a representative of UIC Business, often as the first point of contact for potential students, parents and other friends of the college. For questions and more information about the Business Ambassador Program, please contact Joey Maman, Lead Academic Advisor.
Networking
The UIC Business Alumni Network is 37,000 strong. Each year, they hold events so that students can make the powerful connections they need to succeed in the business world. Donors support our hard-working students through scholarship and mentorship opportunities.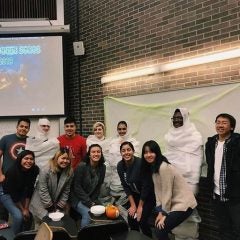 "Take advantage of the opportunities you have with student organizations not only to advance and learn more about yourself but also to connect with other students. Get involved!"

|
The Business Learning Center
The Business Learning Center is a space designed by and for business students. It is a place for students to meet, study and share ideas. The Business Learning Center hosts monthly workshops and offers tutoring sessions for anyone who needs a little help with their classes. Students are encouraged to utilize the Business Learning Center to meet and connect with their classmates. For more information, please contact Liz Sady, Director of Advising.
Living Learning Communities (LLC's)
Living and Learning Communities (LLC's) at UIC attract high-achieving students and provide specialized attention for an enriched educational experience. Partnering business students experience a sense of community through programs, conversations, and faculty interaction centered on core business skills.
Business Connnect
As a UIC Business student, consider this site a resource for key academic, career and campus information. As a supplement to your professors and advisers, Business Connect is here to help you succeed with your academic goals, enhance your experience as a UIC Business student and help facilitate a successful future beyond your time on campus.
Students already admitted to UIC Business should head to Business Connect for next steps and upcoming events.