UIC Business Departments
Redefining Business Education
Tomorrow's business leaders deserve the adaptive, rigorous education it takes to succeed in our ever-changing global economy. Offering several cutting-edge business degree programs, UIC's Business departments help meet this need with innovation, relevance and exceptional career preparation.
UIC Business comprises six dynamic departments that work to deliver excellence in business education and consistently produce outstanding graduates sought after by the business community. Within these departments are business leaders, researchers, economists, entrepreneurs and numerous other experts in business and its related fields. It's the work of these departments that makes UIC Business a destination for students who value a strong education, renowned professors and access to a vibrant business community.
Explore our departments below or browse undergraduate or graduate programs.
UIC's Business Departments are home to top-ranked undergraduate, graduate and doctoral programs in business administration, finance, marketing, analytics and more. Our departments support student and faculty research, host seminars on current business topics and maintain relationships with Chicago's top businesses.
Learn more about UIC's Business departments and degree programs:
The Accounting Department offers undergraduate, graduate, and doctoral accounting programs that prepare you for work in public accounting, industry or government/nonprofit accounting. The department hosts annual conferences on various accounting topics and supports the pre-professional and social Accounting Club.
The Finance Department offers undergraduate and graduate finance degrees with several specializations and tracks available. The department supports numerous student activities, including the Finance and Investment Group student organization, finance seminars and conferences.
Department of Information and Decision Sciences (IDS)
The department of information and decision sciences (IDS) is one of UIC Business' newest departments. It offers several degree programs at the undergraduate, graduate and doctoral levels that examine ways to leverage technology to help businesses prosper. The IDS department is also home to several researchers at the forefront of information sciences and business analytics, working with the Center for Applied Analytics and Center for Supply Chain Management and Logistics.
From data-driven marketing to sales leadership, the department of marketing educates business students of all levels on several industry-relevant topics. The department of marketing offers both undergraduate and graduate marketing degrees that prepare students to enter an exciting, multifaceted field.
Department of Managerial Studies
With research and professional expertise in management and entrepreneurship, the department of managerial studies helps prepare students for careers in human resources, management, product development and more. The department offers undergraduate and doctoral degrees that provide students with relevant, rigorous academic preparation and maintains partnerships with numerous Chicago businesses and organizations to help students gain practical experience in the field.
The Stuart Handler Department of Real Estate
The department of real estate provides excellent training in the broad field of real estate, including appraisal, acquisitions, property management, sales and leasing. The real estate department offers undergraduate degrees and graduate courses anchored in research and delivered by faculty active in the industry. It also hosts numerous career panels, conferences, corporate visits and networking events every year.
What's Business Education Like At UIC? Hear From Our Alumni Heading link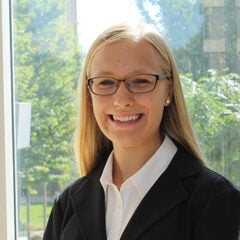 ""My time at UIC as an accounting student has far exceeded my greatest expectations. I have been able to excel both academically and professionally due to my involvement in student orgs, a rigorous course load, as well as unwavering support from faculty and advisors. The business school has truly prepared me for a successful career ahead.""

|