Graduate Admissions
Accelerate your career with a proven education from UIC Business Liautaud Graduate School.
Our graduate business programs provide you with relevant real-world curriculum and outstanding professional development. Upon graduation, you will develop the skills needed to take the next step in your career.
We encourage you to explore our website to learn more about our programs. In addition, we welcome you to visit campus to experience life in the classroom, and meet our faculty, staff, and students that will be a part of your UIC Business experience.
Please note: The UIC Business Recruitment ​campus office is temporarily closed and staff will be working remotely until further notice. Visit the COVID-19 response page for the most up-to-date information. Please contact us by email at gradbusiness@uic.edu if you have any questions or need assistance.
The application deadline for domestic students for fall 2020 has been extended until July 25.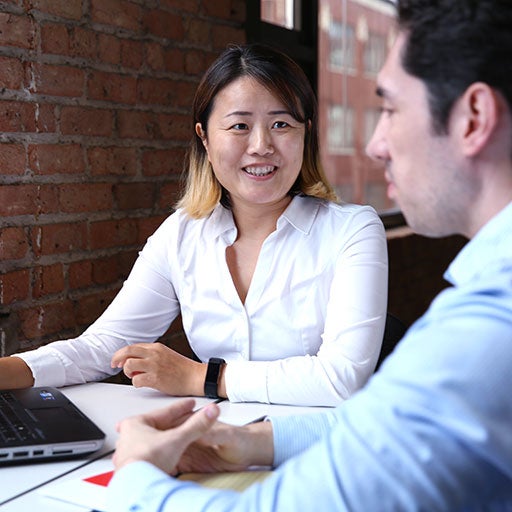 GMAT/GRE Update
Due to the COVID 19 pandemic, for the fall 2020 admissions cycle, the GRE/GMAT requirement will be waived for UIC Business Master of Science (MS) degree program applicants who have graduated with a bachelor's degree or higher from an accredited US institution. Applicants who would still like to submit GRE/GMAT test scores with their application may do so.
Applicants to the Master of Business Administration (MBA) degree program for the fall 2020 admissions cycle can be considered for a GMAT/GRE waiver based on the following conditions: graduated with a bachelor's degree or higher from an accredited US institution, 3.0 GPA or better, three years or more of professional work experience. To be considered for a fall 2020 MBA program GMAT/GRE application waiver, submit the MBA Program Waiver form and additional required materials.
MBA Program Waiver Form
Summer 2020 Admission Deadlines
Fall 2020 Admission Deadlines
Spring 2021 Admission Deadlines
Start Your Application
Start Your Application
The application process is paperless. Hard copy paper documents or mail documents are not accepted. Application Requirements:
Test Scores: GMAT or GRE scores are accepted by all programs. GMAT and GRE scores are valid for up to 5 years. Applicants to the MBA program may qualify for a GMAT/GRE waiver.
Academic Record: Applicants should have an undergraduate GPA of 3.0/4.0 or better (or equivalent).  A business-related undergraduate degree is not required to be admitted to our master's programs.
Letters of Recommendation: We require two letters of recommendation from references who know you in a professional manner and can attest to your professional abilities. Specialized master's degree programs also accept letters from previous professors who can speak to your academic abilities. Once you start an application, you will submit the recommenders' names and contact information, and they will complete an electronic recommendation form.
Personal Statement: The personal statement provides you with the opportunity to discuss your career goals and why you think the UIC Business Liautaud Graduate School program is a good fit. Guidelines are provided in the online application.
Work Experience:All MBA applicants are expected to have at least two years of business related work experience after the completion of a 4-year bachelor's degree. Historically, our typical admitted student had more than this level of experience prior to applying to the UIC Business MBA program. Work experience is not required for the specialized master's programs and can be waived for highly qualified applicants to the Accelerated MBA.
$70 application fee
Interview: MBA applicants only. All completed applications are reviewed by the Admissions Committee and qualified candidates will be invited for an interview.
International Applicants
Please visit the central UIC admissions website for more information on the application process and additional requirements.
UIC Global 
UIC Global is an optional admissions program for international applicants that provides additional language, cultural and academic support to international students as they begin their graduate school career in the United States. You can learn about UIC Global here.
It is not mandatory to work with a UIC Global agent in order to apply to UIC Business. You can apply directly to UIC Business at applygrad.uic.edu and the UIC Business admissions team will work directly with you on any questions you have.
UIC Business admissions requirements and deadlines for international applicants are the same whether you apply through UIC Global, or through the regular UIC admissions pathway. Admitted UIC Global applicants receive additional support services and cultural experiences described on the UIC Global website. Students admitted through UIC Global are not eligible for consideration for UIC Graduate or Teaching Assistantships (i.e. tuition waivers), and have credit hour limitations in the first term.
Funding
Graduate Assistantships

Students who enroll for eight or more credit hours during the fall and spring semesters are eligible to apply for a graduate assistantship. These on-campus job opportunities provide students with a partial tuition waiver and a stipend that varies in amount according to the time worked. They also provide valuable work experience in areas related to their degree program. Students are responsible for finding their own assistantships, just as one would find a job.

Partial Tuition Waivers

A number of partial tuition and fee waivers are available for incoming graduate students. Funding awards are based on academic merit. Students do not need to apply separately for a waiver. You will be notified during the admissions process if you are being considered for a scholarship or a partial tuition and fee waiver.

We also offer the UIC Business Liautaud Graduate School Scholars program for highly qualified full-time MBA students, a program that includes merit-based scholarships providing tuition remission. Ask an admissions representative to learn more about the program.

Federal Funding

You may be eligible for up to $20,500 per year of federal loan funding whether you plan to study on a part-time or full-time basis and regardless of your economic status. Completing the Free Application for Federal Student Aid helps students begin the process of determining how to pay for their program. The funds are government loans and are made available to domestic students who are interested in pursuing a degree from an accredited institution who are not in default of past student loans and have correctly submitted the FAFSA form. UIC Federal School Code: 001776
Veterans Benefits
The UIC Business Liautaud Graduate School eagerly welcomes veterans and participates in a number of programs designed specifically for U.S. Military Veterans.
Illinois Veteran Grant

The Illinois Veteran Grant pays tuition and fees for either undergraduate or graduate study at all Illinois public colleges and universities. Recipients may use their grant assistance up to a maximum of 120 eligibility units. The IVG covers resident tuition and mandatory fees (this excludes refundable fees). The IVG does not cover university housing costs. Important: Students must submit a copy of their eligibility letter to the Office of Student Financial Aid prior to the term deadline established by the Illinois Student Assistance Commission in order for the funds to be applied to their student account.

Illinois National Guard Grant

Illinois National Guard Grant supports enlisted officers or company grade officers of Illinois National Guard Units,with one or more years of service, may be eligible for payment of tuition at state universities and colleges in Illinois through the Illinois National Guard Grant. Other grants administered by Illinois Student Assistance Commission may be used in conjunction with the INGG, but may not replace the INGG. Recipients may use their grant assistance up to a maximum of 120 eligibility units. Applications must be submitted annually and are available from ISAC.

Post-9/11 Veterans Education Assistance Improvements Act

The Post-9/11 Veterans Education Assistance Improvements Act of 2010 was signed into law in early January 2011. Depending on a veteran's eligibility level, benefits include:

Payment up to 100% public in-state tuition & fees
A monthly basic allowance for housing at the E-5 with dependents level
And an annual books and supplies stipend of up to $1,000 per year

Veterans can estimate the benefits they may be entitled to using the New GI Bill website's Benefits Calculator. The UIC Liautaud Graduate School of Business encourages veterans to contact the U.S. Department of Veterans Affairs for an official determination of their eligibility. For full details, visit the Veterans Affairs Post-9/11 GI Bill website.

MIA/POW Scholarship

The MIA/POW Scholarship is available to dependents of Illinois veterans who are/were prisoners of war, declared missing in action, deceased, or have 100% service connected disability. You may request more eligibility information or an application from the Illinois Department of Veterans Affairs.

Children of Veterans Tuition Waiver

The Children of Veterans Tuition Waiver is a four-year consecutive in state waiver at the University of Illinois to natural or legally adopted children of service members who are veterans of World War II, the Korean Conflict, the Vietnam Conflict, the Southwest Asia Conflict, Operation Enduring Freedom and Operation Iraqi Freedom.

The following are limitations to the Child of Veterans Waiver:

One tuition wavier will be given per county, per war
A candidate must be a permanent resident of the Illinois county from which he/she applies
The tuition waiver covers in-state tuition for undergraduate, graduate and professional students at the University of Illinois at Chicago.

Students must complete the application by March 1 proceeding the academic year for which they are applying.

Applications will become available each December 1. Applicants will be notified by April 1. Please be aware all application materials for UIC are all reviewed by the Office of Student Financial Aid in Urbana-Champaign and materials must be submitted accordingly.