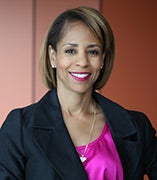 Benét DeBerry-Spence
Professor and Department Head, Marketing
Department of Marketing
Contact
Building & Room:
University Hall 2201
Address:
601 S. Morgan St., Chicago, IL 60607
Office Phone:
Email:
CV Link:
Related Sites:
About
Experience
Professor of Marketing, University of Illinois at Chicago; Chicago, IL
Founder, MASAZI Visitor and Welcome Centre; Accra, Ghana, West Africa
CODESRIA Multinational Working Group Member and Coordinator, Council for the Development of Social Science Research in Africa
Global New Businesses/Global Commercialization, Monsanto, G.D. Searle (now Pfizer); Skokie, IL
Northwestern Healthcare Network (now Northwestern Memorial Hospital); Chicago, IL
Global Marketing/Product Management-Development, Baxter Healthcare Corporation; Deerfield, IL
Classes Taught
Global Marketing
Consumer Behavior
Core/Introduction to Marketing
Graduate and Executive Course Studies
Research Interests
Global and African Market Development
Emerging and Developing Economies
Race, Diversity Equity & Inclusion
Entrepreneurship and Microentrepreurship
Consumer Behavior
Transformative Research
Engaged Scholarship
Anthropological and Sociological Theories and Methods
Selected Publications
DeBerry-Spence, B. and Trujillo Torres, L. (2021), "'Don't Give Us Death Like This!' Commemorating Death in the Age of COVID-19," Journal of the Association for Consumer Research, forthcoming.
DeBerry-Spence, B. and Izberk-Bilgin, E. (2021), "Historicizing and Authenticating African Dress: Diaspora Double Consciousness and Narratives of Heritage and Community," Consumption Markets & Culture, 24(2), 147-168.
Trujillo Torres, L., and DeBerry-Spence, B. (2019), "Consumer Valorization in Narratives of Traumatic Consumption Experiences," Journal of the Academy of Marketing Science, 47 (3): 516-431.
Finalist, 2020 Journal of the Academy of Marketing Science Sheth Foundation Best Paper Award
DeBerry-Spence, B., Ekpo, A., and Hogan, D. (2019), "Mobile Phone Visual Ethnography (MpVE): Bridging Transformative Photography and Mobile Phone Ethnography," Journal of Public Policy & Marketing, 38 (1): 81-95.
Winner, 2021 American Marketing Association-EBSCO Award for Responsible Research in Marketing
Ekpo, A., DeBerry-Spence, B., Henderson, G. R., and Cherian, J. (2018), "Narratives of technology consumption in the face of marketplace discrimination," Marketing Letters, 29 (4): 451-463.
Notable Honors
2021, AMA-EBSCO Award for Responsible Research in Marketing, American Marketing Association
2020, Best Paper Award Finalist, Journal of the Academy of Marketing Science Sheth Foundation
2020 - 2021, Public Voices Fellow, OpEd Project
2017 - 2018, Presidential Fellow, University of Illinois
Education
PhD in Marketing, Northwestern University
MBA, University of Chicago
BS, University of Notre Dame