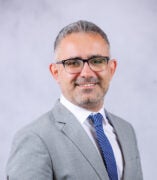 Egemen Genc
Assistant Professor
Department of Finance
Contact
Address:
601 S. Morgan St., Chicago, IL 60607
Office Phone:
Email:
CV Link:
Related Sites:
Selected Publications
"Going for GOLD: An Analysis of Morningstar Analyst Ratings" (with Will Armstrong and Marno Verbeek), Management Science, Vol. 65, December 2017, 1949-2443.
"Playing Favorites: Conflicts of Interest in Mutual Fund Management" (with Diane Del Guercio and Hai Tran), Journal of Financial Economics, Vol 128, June 2018, 536-557.
"Do Mutual Fund Investors Overweight the Probability of Extreme Payoffs in the Return Distribution?" (with Ferhat Akbas), Journal of Financial and Quantitative Analysis, Vol. 55, February 2020, 223-261.
Notable Honors
2019, Conference Best Paper Award in Empirical, Southern Finance Financial Management Association Annual Meeting
2016, Conference Best Paper Award in Investments, Financial Management Association Annual Meeting
2015, Conference Best Paper Award, Academy of Financial Services Conference
Professional Memberships
External Researcher, Deutsche Bundesbank, Germany (2017- present)
Academic Contributor, Citadel LLC., USA (2017- present)
Research Currently in Progress
Liquidity Support in Financial Conglomerates (with Falko Fecht and Yigitcan Karabulut), 2019.
The Ties that Bind: Work Connections and Mutual Fund Investment Ideas, (with Hai Tran, Sara Shirley, and Jeffrey Stark), 2019.
Disagreement, Aggregate Trading Volume, and Excess Market Returns (with Ferhat Akbas, Chao Jiang, and Paul D. Koch), 2019.
Peer stock short interest and future returns (with Ferhat Akbas and Ekkehart Boehmer), 2016.
Promotion and Demotion in Mutual Fund Families (with Diane Del Guercio and Hai Tran)
ESG Investing: Myth or Reality (with Bige Kahraman and Yigitcan Karabulut), 2019