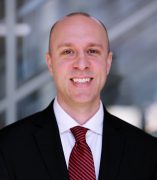 Andrew Hanson
Associate Professor and Acting Department Head
Stuart Handler Department of Real Estate
Contact
Address:
601 S. Morgan St., Chicago, IL 60607
Office Phone:
Email:
CV Link:
Related Sites:
About
Andrew Hanson is an Associate Professor and Interim Department Head for the Stuart Handler Department of Real Estate at the University of Illinois Chicago. Prior to joining the UIC faculty in 2019, Andrew held faculty positions at Marquette University and Georgia State University. Outside of academia, Dr. Hanson has worked in government at the Council of Economic Advisers, and as a consultant/contractor for the National Apartment Association, the National Association of Realtors, the Lincoln Institute of Land Policy, and the Pew Charitable Trusts Fiscal Federalism Initiative. Most of Dr. Hanson's research is at the intersection of real estate, urban economics, and public finance, where he studies tax policy for urban redevelopment and home mortgages, and discrimination in housing and mortgage markets in addition to other topics. He currently serves as an Associate Editor for Public Finance Review and Regional Science and Urban Economics.
Selected Publications
"Tax Policy and Economic Development: An Interpretative Review of the Literature, 1997–2017," Economic Development Quarterly, 35(3), 2021: 232–253.
"Taxes and Borrower Behavior: Evidence from the Mortgage Interest Deductibility Limit," Journal of Urban Economics, 118, 2020: 18–33.
"Discrimination in Mortgage Lending: Evidence from a Correspondence Experiment," Journal of Urban Economics, 92(2), 2016: 48–65 (with Zackary Hawley, Bo Liu, and Hal Martin).
Professional Leadership
Journal Ranking Committee, American Real Estate Society, 2020
Holland Medal Award Committee, National Tax Association, 2016-2018
Member, Board of Directors, National Tax Association, 2015-2018
Notable Honors
2016-2021, Senior Scholar, Lincoln Institute
2018, Referee of the Year Award, National Tax Association
2010, 2012, Outstanding Service Award, National Tax Association
2011, Outstanding Paper Award, Public Finance Review
Education
Ph.D., Economics, Syracuse University
Fields: Public Finance, Urban Economics 2008
B.S., Economics, University of Wisconsin-Oshkosh 2003