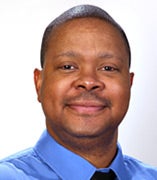 James Cooper
Clinical Assistant Professor
Department of Managerial Studies
Contact
Address:
601 S. Morgan St., Chicago, IL 60607
Office Phone:
Email:
CV Link:
About
Experience
Adjunct Clinical Assistant Professor of Managerial Studies, University of Illinois at Chicago, 2012-2013
Adjunct Assistant Professor, Various Universities, 2005 – Present
Talent Manager /Consultant, Synergy Global Resources , 2009 - Present
Manager of Staffing Services, Siemens Building Technologies, 2007-2008
Human Resources Manager – Corporate Functions, Andrew Corporation, 2006-2007
Classes Taught
Human Resources Management
Organizational Development
Strategic Management
Leadership and Managerial Decision Making
Business Development and Entrepreneurship
Business Statistics and Finance
Integrated Marketing Communications
Advertising and Promotions
Research Interests
Online Faculty Development
Organization Development Change
Talent Management and Development
Leadership and Decision Making
Online Adult Learning
Online Social Networks
Selected Publications
Cooper, Jr. J.W. (2013). Talent development of instructors in online higher education: A mixed methods study of instructor effectiveness. (Doctoral dissertation). ProQuest Dissertation and Theses. (To be published March 31, 2013).
Cooper, Jr. J.W. (2009). Insights for a venture capital talent management model. Exploring the C-Suite for Sustainable, Socially Responsible Business Models. Midwest Academy of Management Proceedings.
Education
PhD in Organizational Development & Change, Benedictine University, 2013
MBA in Human Resources, DePaul University, 2004
BBA in Finance, Loyola University Chicago, 1998