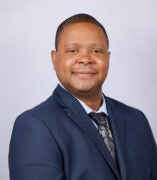 James Wesley Cooper
Clinical Assistant Professor
Department of Managerial Studies
Contact
Building & Room:
University Hall 2510
Address:
601 S. Morgan St., Chicago, IL 60607
Office Phone:
Email:
CV Link:
About
Experience
Clinical Assistant Professor of Managerial Studies, University of Illinois at Chicago, 2012-Present
Academic & Organizational Consultant 2009-Present
Adjunct Clinical Assistant Professor of Managerial Studies, University of Illinois at Chicago, 2012-2013
Adjunct Assistant Professor, Various Universities, 2005 – Present
Talent Manager /Consultant, Synergy Global Resources, 2009 - Present
Manager of Staffing Services, Siemens Building Technologies, 2007-2008
Human Resources Manager – Corporate Functions, Andrew Corporation, 2006-2007
Courses
Strategic Management and Competitive Strategy
Human Resources Management
Organizational Development/Behavior
Entrepreneurship
External Business and Society
Corporate Sustainability and Responsibility
Negotiations
Training and Development
Strategic Compensation
Recruitment and Selection
Leadership and Managerial Decision Making
Research Interests
Racial and Learner Identity African American/Black Student Success
Business Simulations and Gaming
Professional Identity
Selected Publications
Teaching Methods in Business Series Chapter – Computers Simulations & Gaming Volume – Academy of Management, Edward Edgar Publishing–Publish Date: July 2022. ISBN 978-1-83910-242-4
Cooper, Jr. J.W. (2013). Talent development of instructors in online higher education: A mixed methods study of instructor effectiveness. (Doctoral dissertation). ProQuest Dissertation and Theses. (To be published March 31, 2013).
Cooper, Jr. J.W. (2009). Insights for a venture capital talent management model. Exploring the C-Suite for Sustainable, Socially Responsible Business Models. Midwest Academy of Management Proceedings.
Education
2018 -Present PhD – Learning Sciences, University of Illinois at Chicago, Chicago, IL.
2013 PhD - Organizational Development and Change, Benedictine University, Lisle, IL.
2004 MBA – Human Resources Management, Cum Laude. DePaul University Chicago, IL.
1998 BBA – Finance, Magna Cum Laude. Loyola University, Chicago, IL.
Licensures and Certifications
SPHR – Senior Professional Human Resources
SHRM-SCP – SHRM Senior Certified Professional
Research Currently in Progress
Road to Graduation: African American Students Affirmational Changes in Radicalized and Learning Identities