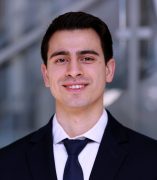 Luis Arturo Lopez
Assistant Professor
Stuart Handler Department of Real Estate
Contact
Building & Room:
University Hall 2102
Address:
601 S. Morgan St.
Office Phone:
Email:
CV Link:
Related Sites:
About
Dr. Luis Arturo Lopez is an Assistant Professor in the Stuart Handler Department of Real Estate in the College of Business Administration at the University of Illinois at Chicago (UIC). He joined UIC in the summer of 2019. His research interests are in real estate finance, household finance, and mortgage markets. His recent work centers on the COVID-19 pandemic, mortgage discrimination, financial intermediation, and financial steering in real estate markets. His work has been featured in top academic journals including The Review of Financial Studies, Real Estate Economics, and Regional Science and Urban Economics. He has made appearances on the Desde Nevada show televised on Univision, the largest Hispanic news broadcaster in the United States, and the CapitalIsn't podcast at the University of Chicago.
Professor Lopez obtained his PhD in Business Administration with an emphasis in Real Estate from Penn State University. Before beginning his doctoral studies, he served as a Data Analyst for the Lied Institute for Real Estate Studies at UNLV, Realty Technician (STEP) for the Bureau of Land Management, and Real Estate agent for a boutique firm in Las Vegas. He also obtained a Bachelor of Arts and Master of Arts in Economics from the University of Nevada, Las Vegas.
Education
PhD in Business Administration, The Pennsylvania State University, May 2019
MA in Economics, University of Nevada, Las Vegas, December 2012
BA in Economics, Minor in Political Science, University of Nevada, Las Vegas, December 2010
Professional Memberships
American Finance Association
American Real Estate and Urban Economics Association
American Real Estate Society
Financial Management Association
Research Currently in Progress
"Did the Paycheck Protection Program Help Small Businesses? Evidence from Commercial Mortgage-backed Securities,'' with Sumit Agarwal, Brent W. Ambrose and Xue Xiao (Available at SSRN).
"Eviction Risk of Rental Housing: Does It Matter How Your Landlord Finances the Property?,'' with Brent W. Ambrose and Xudong An (Available at SSRN).