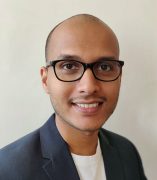 Theja Tulabandhula
Assistant Professor
Department of Information and Decision Sciences
Contact
Address:
601 S. Morgan St., Chicago, IL 60607
Office Phone:
Email:
CV Link:
Related Sites:
About
I build value-driven machine learning and optimization solutions in applications that typically interface with people. I focus on bringing the best out of data and enabling large gains in key business metrics.I am broadly interested in pursuing practical solutions to applied problems, which make use of carefully chosen statistical models and data driven decision making methods, and have a significant impact on business and societal outcomes. Some specific interests include:
Modeling human behavior and enhancing their decision making prowess quantitatively
Developing application specific machine learning/statistical methods
Developing special-purpose optimization and reinforcement learning methods for real life deployment
Tech entrepreneurship (e.g., ML Ops, scalable data pipelines, online experimentation, personalization)
Selected Grants
UIC Chancellors Innovation Fund Phase I (2019), "Hardware Accelerators for Bayesian Deep Learning", co-PI
Education
I have a PhD in Electrical Engineering and Computer Science from the Massachusetts Institute of Technology, Cambridge, USA. My thesis topic area was Machine Learning and Optimization. I also have a Dual Degree in Electrical Engineering from the Indian Institute of Technology Kharagpur, India. While there, I was awarded the Prime Minister's Gold Medal for being ranked 1 GPA-wise across the university. I have also been a Fulbright Science and Technology Scholar.
Licensures and Certifications
Research Currently in Progress
Artistic and Professional Performances and Exhibits