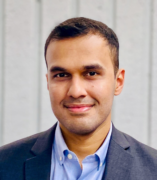 Vijay Kamble
Assistant Professor
Department of Information and Decision Sciences
Pronouns: He/Him/His
Contact
Address:
601 S Morgan St, Chicago, IL 60607
Office Phone:
Email:
CV Link:
Related Sites:
About
Vijay Kamble is an Assistant Professor of Information and Decision Sciences in the College of Business Administration at the University of Illinois Chicago with a courtesy affiliation with the Department of Computer Science. Prior to joining UIC, he was a postdoctoral researcher in the Society and Algorithms Lab at the Management Science and Engineering department of Stanford University. He obtained his Ph.D. in Electrical Engineering and Computer Sciences from UC Berkeley in 2015.
His present research is centered on the design and optimization of online platforms and marketplaces, with a primary focus on learning and experimentation on these platforms. His research has been published in prominent journals such as Management Science, Operations Research, Journal of Machine Learning Research, and Journal of Artificial Intelligence Research in areas spanning optimization, machine learning, pricing and revenue management, decision-making under uncertainty, and information systems.
Selected Publications
"The square-root agreement rule for incentivizing truthful feedback in online platforms" with David Marn, Nihar Shah, Abhay Parekh, Kannan Ramchandran, Management Science, 2022.
"An approximate dynamic programming approach to repeated games with vector losses" with Patrick Loiseau and Jean Walrand, to appear in Operations Research, 2022.
"Individual fairness in hindsight" with Swati Gupta, Journal of Machine Learning Research, 2021.
"Matching while learning" with Ramesh Johari and Yash Kanoria, Operations Research, 2020.
"Iterative local voting for collective decision-making in continuous spaces" with Nikhil Garg, David Marn, Ashish Goel and Kamesh Munagala, in Journal of Artificial Intelligence Research, 2018.
Education
Ph.D. in Electrical Engineering and Computer Sciences, UC Berkeley, 2015