Chancellor Establishes Key Priorities in First State of the University Address
Chancellor Establishes Key Priorities in First State of the University Address Heading link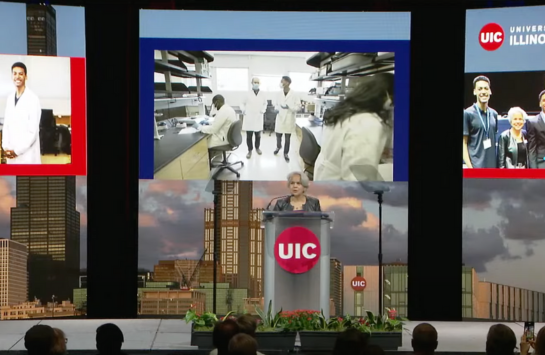 With UIC's shared values as an anchor, Chancellor Marie Lynn Miranda outlined five priorities to guide UIC forward during her first State of the University address on Oct. 17.
Rooted deeply in UIC's mission and values, Miranda outlined five priorities that will guide UIC's upward trajectory: student success, research infrastructure, engagement with our community, partnerships with businesses and nonprofits, and recruiting and retaining the best faculty and staff.
"My intentional conversations with you — students, faculty, and staff — shaped these priorities," Miranda said during her address at the Isadore and Sadie Dorin Forum. 
"We will continue to thrive as we live out our values of access, vitality, empowerment, and creativity by realizing our priorities of student success and belonging, enhanced research infrastructure, community engagement, partnerships with businesses and nonprofits, and faculty and staff support."