Business Career Center
Transform your initiative into the career of your dreams.
The UIC Business Career Center is open with all resources available to you, including advising, workshops, job and internship opportunities, career fairs, and more. Our team of experienced career coaches are here to help you learn the skills that you need to find the right business career. We help you translate your classroom experiences to the workplace.
The Business Career Center offers in-person and virtual appointments between the hours of 9 a.m. to 5 p.m. Monday through Friday. Current students can schedule an appointment by calling (312) 996-5139 or logging into UICcareers.com.  
Explore
How do I learn more? Why Business? Where do I start? Who can I speak with?
Before you can figure out where you want to go, it's important to know where you are starting from. Everyone has had experiences which contain clues as to their best career fit. Start by exploring your career options and assessing your interests. We can help you explore.
Current students have access to our career assessment tools, research databases, workshops, and career coaching team for assistance with career exploration. For more information, please give us a call at (312) 996-5139.
Engage
How can I stand out from the crowd? What does it take to be a competitive candidate? 
To become a competitive candidate who employers want to hire, you need to actively engage in preparing for your career. You should have a resume that has been reviewed, conducted interview prep, know how to present yourself, and understand job search strategies. We can help you engage.
Current students have access to a variety of guides, workshop, and coaching to help with their internship or job search.
Experience
How do I get an internship or full-time job? 
The Business Career Center brings employers (recruiters) to campus to meet and hire our business students. Employers attend specialized and general virtual career fairs during which they are actively looking to hire students. Our career coaches can also help you maximize your internship and job search strategies.
Having an internship experience is the best way to find out if your career choice is the right fit. We can help you experience. Current students and recent alumni have access to our career fairs and uiccareers.com to interact with our employer partners.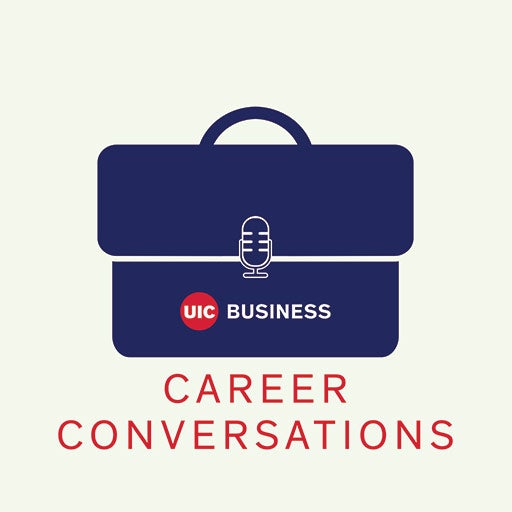 The UIC Business Career Conversations Podcast, features interviews with students, alums, faculty, and staff to explore different careers in Business." You can expect to hear first-hand from alumni and students about their experiences in various fields, exciting new research from our faculty, and how the various departments at UIC Business can support you on your journey to career success. This podcast is brought to you by the Business Career Center at the University of Illinois Chicago.
Listen Now
Professional Development

MBA 590

Leadership & Improv (a 2-credit elective) is not required… but it should be. It has nothing to do with your concentration and everything to do with your concentration at the same time. It is all about professional presence.  Professional presence is a combination of verbal and non-verbal abilities that are recognized as a poised, authentic communication style, particularly in spontaneous or impromptu interactions. This kind of style, however, is not superficial—it is critical to your productivity and effectiveness. Our Professional Development faculty will give you the tools and the encouragement to meet these challenges. Whether it is public speaking, navigating a cocktail party, networking, interviewing for a job or asking for a raise.

Our faculty have one foot in the world of Improv (each of them have trained and taught at Second City) and one foot in the business world. Using simulations and adapted theater techniques, this course is an experiential workshop that creates a safe laboratory for you to experiment with the elements of your own professional presence. Take this eight-week class early in your graduate career. You will not be sorry!

Top Companies

Our students land at a diverse variety of companies. In the last year, MBAs have scored positions with Deloitte Consulting, Mikan Associates Consulting, Huron Consulting, Caterpillar, Advocate Health, Valence Health, Advisory Board Company, CIA, CNA, Ryan Specialty Group, First Midwest Bank, CCC Information Systems, Infosys, Applied Systems, Forsyth Solutions, Panduit, Epic, Fitch Ratings and Best Buy.

A sampling of MIS employers includes: Deloitte, JP Morgan, Facebook, EY, PwC, CME Group, Bank of America, Discover Financial Services, Johnson & Johnson, Bosch Rexroth, Orbitz Worldwide, Enova Financial, Fieldglass, Sears Holding Corporation, Nokia, Yahoo!, Valence Health and Infosys.

MSA graduates are working in a variety of public and corporate companies such as: Caterpillar, CNA, Deloitte, PwC, KPMG, McGladrey, True Partners, CDH, Kessler, Orlean, Silver & Co., Friedman & Huey Associates and the NDH Group.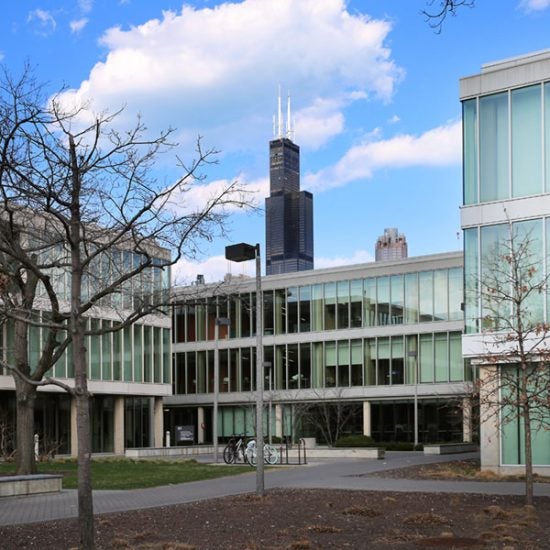 Hours of Operation: Monday – Friday, 9 a.m. – 5 p.m.
705 S. Morgan St.,
Douglas Hall, Suite 110,
Chicago,
Illinois
60607