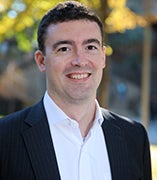 William O'Brien
Associate Professor
Department of Finance
Pronouns: He/Him/His
Contact
Building & Room:
University Hall 2124
Address:
601 S. Morgan St., Chicago, IL 60607
Office Phone:
Email:
CV Link:
About
Experience
University of Illinois Chicago, College of Business Administration, 2015 - present
Classes Taught
Introduction to Managerial Finance
Selected Publications
"Business Groups and Employment" (with Mara Faccio), Management Science, forthcoming.
"Do the Most Prominent Firms Really Make the Worst Deals? How Selection Issues Affect Inferences from M&A Studies" (with Josh Austin and Jeremiah Harris), 2020, Journal of Banking and Finance, article 105888.
"U.S. Worldwide Taxation and Domestic Mergers and Acquisitions" (with Jeremiah Harris), 2018, Journal of Accounting and Economics 66, 419-438.
One of six papers selected for the 2017 Journal of Accounting and Economics Conference (Wharton Business School, Philadelphia, PA).
"Option Repricing, Corporate Governance, and the Effect of Shareholder Empowerment" (with Huseyin Gulen), 2017, Journal of Financial Economics 125, 389-415.
"Captive Finance and Firm's Competitiveness" (with Andriy Bodnaruk and Andrei Simonov), 2016, Journal of Corporate Finance 27, 210-228.
Notable Honors
2020, Innovation in Teaching Award, Runner-up, Financial Management Association (FMA)
2018, Excellence in Teaching Award, UIC Business
2018, Silver Circle Award for Excellence in Teaching, UIC
Education
PhD, Finance, Purdue University (2015)
MS, Economics, Purdue University (2013)
MBA, University of Notre Dame (2010)
BS, Finance, University of Illinois (2000)
Research Currently in Progress
"Do U.S. Firms Disguise Acquisitions to Avoid Taxes?" (with Jeremiah Harris)
"Comparing the Tax Strategies of U.S. Multinationals" (with Jeremiah Harris)
"Detecting Earnings Information in Repurchase Announcements Using the Luck of the (Double) Irish"