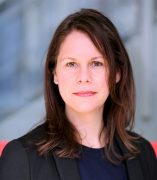 Paige H. Patrick
Assistant Professor
Department of Accounting
Pronouns: She/Her/Hers
Contact
Address:
601 S. Morgan St., Chicago, IL 60607
Office Phone:
Email:
CV Link:
About
Positions Held
Assistant Professor, University of Illinois at Chicago, 2019 - present
Assistant Professor, University of Washington, 2013 – 2019
Teaching Experience
Undergraduate-level cost accounting
Graduate-level managerial accounting
Selected Publications
"The Use of Adjusted Earnings in Performance Evaluation" with A. Curtis and V. Li. 2021, Review of Accounting Studies 26 (4), 1290-1322.
"Heaping of Executive Compensation" with B. Jorgensen and N. Soderstrom, 2020. Journal of Management Accounting Research 32 (1), 177-201.
"Renegotiations of Target CEOs' Personal Benefits During Mergers and Acquisitions", 2018. Contemporary Accounting Research 35 (4), 1999-2029.
2014 Management Accounting Section Best Dissertation Award
Selected Working Papers
"Investor-driven governance standards and firm value" with Y. Ertimur, 2021.
"IFRS Adoption and Litigation Risk: Evidence from Directors' and Officers' Insurance" with B. Burnett and D. Hart, 2021.
"Determinants of the usefulness of inside debt in debt contract design" with P. Demerjian and F. Tice, 2021.
Notable Honors
2019, Best Reviewer Award, Management Accounting Section
2018, Outstanding Discussion Award, Financial Accounting and Reporting Section
2017, Excellence in Reviewing Award, Financial Accounting and Reporting Section
Academic year 2016-2017, TMMBA Excellence in Teaching Award and Evening MBA First-year Core Professor of the Year Award, University of Washington
Education
PhD in Accounting, University of Colorado at Boulder, 2013
Master of Accountancy and Information Systems, Arizona State University, 2002
Bachelor of Arts, Biology, University of Colorado at Boulder, 1998
Licensures and Certifications
C.P.A. (Inactive), Colorado