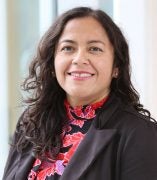 Lez Trujillo Torres
Assistant Professor of Marketing
Department of Marketing
Pronouns: She/Her/Hers
Email:
CV Link:
Related Sites:
About
Lez Trujillo Torres is Assistant Professor of Marketing. She studies how hierarchies of value and inequalities emerge and are reproduced in the marketplace. Her work often takes place in the context of health markets, high risk technologies and consumption, and has implications for service experience design, consumer well-being, public policy, and social, economic, and racial justice.
She has published in the Journal of Consumer Research, Journal of the Academy of Marketing Science, Journal of the Association for Consumer Research, Journal of Public Policy & Marketing, and Marketing Theory. She has presented her research in a variety of international conferences and is a faculty mentor and instructor in doctoral seminars and workshops.
Prior to entering UIC, Lez spent over 15 years addressing social and economic justice issues ranging from affordable housing, homeownership in low-income communities, consumer financial protection, and quality public education. She comes to Chicago via Oakland and Los Angeles. She has also lived in Peru (born and raised), France, and Denmark.
Selected Publications
Lez Trujillo Torres and Benét DeBerry-Spence (forthcoming), "In the Back of the Bus: Racialized High Risk Consumption and Sickle Cell Disease," Journal of the Association for Consumer Research
Benét DeBerry-Spence and Lez Trujillo Torres (2021), "Don't Give us Death Like This! Commemorating Death in the Age of Covid-19," Journal of the Association for Consumer Research. 7(1), 27-38. Both authors contributed equally
Laetitia Mimoun*, Lez Trujillo Torres*, Francesca Sobande (2021), "Social Emotions and the Legitimation of the Fertility Technology Market," Journal of Consumer Research, * indicates lead authors
Sonja Martin Poole, Sonya Grier, Francesca Sobande, Kevin Thomas, Akon Ekpo, Lez Trujillo Torres, Lynn Addington, Geraldine Henderson, Melinda Weeks, "Operationalizing Critical Race Theory (CRT) in the Marketplace" (2020), Journal of Public Policy & Marketing
Francesca Sobande, Laetitia Mimoun, Lez Trujillo Torres (2020), "Soldiers and Superheroes Needed! Masculine Archetypes and Constrained Commodification in the Sperm Donation Market," Marketing Theory. https://doi.org/10.1177/147059311984725
Lez Trujillo Torres, Benét DeBerry-Spence (2019), "Consumer Valorization Strategies in Traumatic Extraordinary Experiences," Journal of the Academy of Marketing Science, 47 (3): 516-537, https://doi.org/10.1007/s11747-019-00645-x. (Selected as a finalist for the 2019 JAMS Sheth Foundation Best Paper of the Year Award)
Service to Community
Board Member, Marketing Ethnic Faculty Association
Treasurer-Elect, Designing Your Career in the Marketing Academy Board
COVID Vaccine Uptake Working Group, University of Illinois, Chicago
Reviewer, Journal of Consumer Research
Reviewer, Journal of Business Research
Reviewer, Journal of Public Policy & Marketing
Reviewer, Association for Consumer Research Conference
Reviewer, American Marketing Association Conference
Reviewer, Consumer Culture Theory Conference
Notable Honors
2022, Panelist and Faculty Mentor, Doctoral Students, 12th Qualitative Data Analysis Workshop, Corvallis, Oregon
2022, Faculty, UIC Honors College
2022, Faculty Sponsor, UIC Local Chapter of the Association of Latino Professionals For America (ALPFA)
2021, Faculty Mentor, Doctoral Students, Seminar on Qualitative Methods and Research Design, University of Lille, France
2021-2022, Faculty Fellowship, UIC Institute for Research on Race and Public Policy
2020, Finalist Paper, Journal of the Academy of Marketing Science/Sheth Foundation, 2019 Best Paper Award
2019, Nominated and Selected Participant, Designing Your Career in the Marketing Academy - Emerging Female Leaders Conference, Chicago
2017, Visiting Ph.D. Student, University of Southern Denmark, Odense
2016, Valuing Diversity Ph.D. Award, American Marketing Association Foundation
Education
Ph.D. in Business Administration, University of Illinois at Chicago
Master of Business Administration, University of Illinois at Chicago
Bachelor of Arts, Molecular and Cell Biology (Neurobiology concentration), University of California, Berkeley
Additional Education Background:
General Sciences, Peralta Community Colleges, Oakland, CA
Industrial Engineering, Universidad Nacional del Callao, Lima, Peru
Professional Memberships
Member, PhD Project
Member, Race in the Marketplace
Member, Consumer Culture Theory
Selected Presentations
2022 "The Impact of Public Discourse on Charitable Giving. Insights from the U.S. Charitable Market from 1991 to 2015," Research Seminar, University of Southern Denmark
2021 "The Impact of Public Discourse on Charitable Giving, Chicago Consumer Culture Theory
2021 "Best Practices: Conducing Marketing Research with Underserved Populations," panelist, Marketing Ethnic Faculty Association
2020 "Don't give us death like this! Commemorating and Death in the Age of Covid-19," Journal of the Association for Consumer Research, COVID Flash Special Issue Presentation
2019 "Social Emotions and Market Legitimation," Cass Business School, City University of London, London, UK
2019 "Workshop on Health, Consumption and Markets," University of Lille, Lille, France