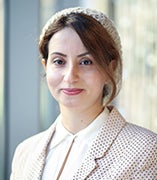 Mehrnaz Amjadi
Doctoral Student in Business Administration: Information and Decision Sciences Emphasis
Department of Information and Decision Sciences
About
I am a PhD candidate at UIC, working with Prof. Theja Tulabandhula. My research spans different aspects of data science, including deep learning and machine learning, network science, and algorithms. I'm specifically interested in implementing Artificial Intelligence approaches to solve different core business problems like recommender systems, modeling social behavior, and marketing promotions. Recently, I spent an amazing summer as an AI Scientist intern at Target corporation.
Selected Publications
"Spatial-Temporal Recommendation Systems" (with Theja Tulabandhula) working paper
"Managing Adoption under Network Effects" (with Vijay Kamble and Theja Tulabandhula)
Preliminary version presented at Workshop on the Economics of Networks, Systems, and Computation (NetEcon 2019)
"Block-Structure Based Time-Series Models For Graph Sequences" (with Theja Tulabandhula)
NIPS Workshop on Advances in Modeling and Learning Interactions from Complex Data, 2017.
Finalist paper in Midwest Machine Learning Symposium: MMLS 2018
"Prescriptive Analytics for Store Flyer Design" (with Selva Nadarajah and Negar Soheili)
Technical report
Service to Community
Session chair, INFORMS Annual Meeting 2019
Reviewer, Journals: Information Systems Research, MIS Quarterly, E-commerce Research.
IDS Graduate Students Research Mentor, University of Illinois at Chicago.
Program Committee, Operations Research, and Optimization Conference (ORO).
Notable Honors
2018, MMLS Best Presentation and Poster Finalist, Midwest Machine Learning Symposium (MMLS)
2018, NSF Award, SIAM Data Mining (SDM) Doctoral Forum
2017, Graduate College Student Presenter Award, University of Illinois at Chicago
2015, National Mathematical Olympiad Nominee, University of Tehran in Iran
Education
PhD candidate in Information and Decision Sciences, University of Illinois at Chicago
M.Sc. in Applied Mathematics, University of Tehran
B.Sc. in Applied Mathematics, University of Tehran (With Highest Distinction)
Selected Presentations
"Managing Adoption under Network Effects," Proceedings of the 14th Workshop on the Economics of Networks, Systems, and Computation (NetEcon), Jun. 2019
"Managing Adoption under Positive Externalities via Dynamic Pricing," INFORMS 2019 Revenue Management and Pricing (RMP), Jun. 2019
"Block-Structure Based Models for Graph Sequences," AT&T Graduate Student Symposium, Nov. 2018
"Dynamic Pricing of New Products under Anticipatory Adoption Models," INFORMS 2018, Nov. 2018
"Block-Structure Based Time-Series Models For Graph Sequences," Data Mining & Decision Analytics Workshop (DMDA), Nov. 2018
"Block-Structure Based for Graph Sequences," Midwest Machine Learning Symposium (MMLS), June 2018
"Block-Structure Based Time-Series Models for Graph Sequences," SIAM Data Mining Doctoral Forum (SDM), May 2018
"Block-Structure Based Time-Series Models for Graph Sequences," NIPS Workshop on Advances in Modeling and Learning Interactions from Complex Data, Dec. 2017
"New Algorithms for Inference in Graph Sequence Models," INFORMS 2017, Oct. 2017
"Prescriptive Analytics for Store Flyer Design," Information and Decision Sciences seminar, University of Illinois at Chicago, Oct. 2016
"A recurrent neural network for solving convex problems,",University of Tehran, Jan 2012