The Bachelor of Business Administration (BBA) Degree Completion Program
The BBA at UIC Business allows you the flexibility and convenience to finish your business degree at a top-ranked, research-based, AACSB-accredited business school. Students can select either online or on campus-based tracks to meet your academic preference.
The Bachelor of Business Administration completion program at UIC Business is dedicated to helping students obtain the degree they want on the schedule they need. Students will:
Receive a 60-credit hour curriculum covering all aspects of business operations
Develop critical thinking, problem solving and leadership skills
Learn to manage data
Study under renowned research faculty
Enjoy flexibility in completing your coursework on your own schedule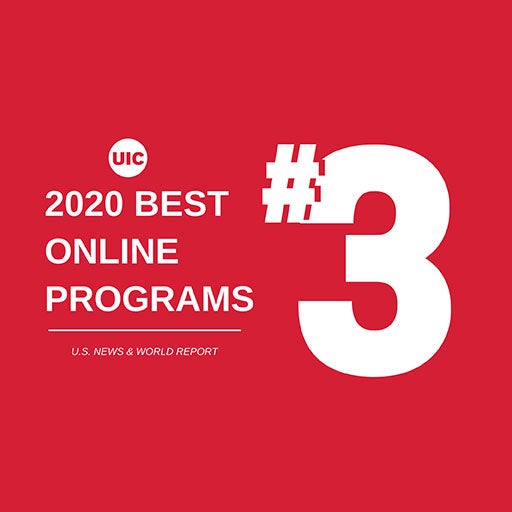 Ranked 3rd in Best Online Programs
For the second straight year, UIC's online programs — in health information management, business administration and nursing — have moved up in the rankings, from 15th in 2018 to 5th in 2019. UIC's climb in the rankings is, in part, a reflection of its commitment to providing access to quality education and ensuring students' success, whether in the classroom or online. Visit UIC Today to read more.
Read Full Story
Important Dates
Undergraduate Applications
UIC has reopened the first-year application and extended the transfer and readmission application deadlines.
Intent to Enroll
UIC has extended the Intent to Enroll deadline for first-year applicants to June 1.
Curriculum and Program Outcomes
Curriculum
The Bachelor of Business Administration (BBA) degree completion program offers a challenging variety of courses intended to give you a well-rounded background in all aspects of operating a business. The program helps you develop your critical thinking, problem solving, leadership and other skills that you can put to use on the job today as well as establish a foundation for lifelong learning.
These business courses will help equip you to adapt to the complex and constantly changing business environment, including the globalization of our economy and advances in technology. They will give you a credential that can serve as a launching pad for a variety of business operation and leadership positions, as well as an advanced degree in business if so desired.
The BBA is a cohort program with a prescribed sequence of courses. However, we understand that life events can intervene; our academic advisers will work with you to rearrange the sequence if circumstances do not allow you to participate during a given term or terms. Our courses are eight weeks in length with the exception of BA 300 and BA 495 which are taken concurrently in the last semester for a 16-week period.
For a full list of degree requirements, visit the UIC Catalog.
Program Outcomes
The Bachelor of Business Administration (BBA) degree completion program is ideal for students who hold an Associate of Arts or an Associate of Science or those who have completed at least 60 credit hours toward their bachelor's degree. Whether you are completing your degree, advancing your career or changing your profession, this is the place for you, where you can:
Get your degree from an AACSB-accredited College
Learn from our world-renowned faculty
Balance your work/life/education schedule and study on your terms
In the BBA online program—take eight-week courses that allow for scheduling flexibility, and work with our academic advisers to rearrange your course order if life events or a heavy work schedule do not allow you to participate in one of these eight-week sessions
In the BBA on-campus program—add a variety of business or other minors to your degree to distinguish your experience and skills upon graduation.
Take a challenging variety of courses intended to give you a well-rounded background in all aspects of operating a business, from accounting and finance to marketing and organizational management to information technology and statistics/data analysis
Develop critical thinking, problem-solving and lifelong leadership skills that help you adapt to the constantly changing business world, from globalization to new technology
Take advantage of our dedicated Business Career Center focused on connecting you to internships and careers
More than 200 companies recruit UIC Business students and 35,000 alumni can expand your career network
Admissions
Admission Requirements
The Bachelor of Business Administration (BBA) degree completion program from UIC Business covers the final 60 credit hours required to receive your bachelor's degree.
You meet the admissions requirements for the BBA degree completion program if you have:
Completed at least 60 hours of prerequisite post-secondary coursework (see description of prerequisites above)
Maintained a cumulative GPA of 2.5 (4.0 grading scale) in all post-secondary course work
Please submit the following to support your request for admission:
A completed application
Official transcripts from all prior post-secondary institutions attended, including prior attendance at any campus of the University of Illinois
Records are considered official if they meet one of the following criteria:
The issuing institution sends them electronically to the UIC Office of Admissions.
They are certified as true copies by an official of the educational institution, an embassy official, or an appropriate government official.
They have been received in an envelope sealed by the issuing institution or from an authorized e-mail address.
International Students
We consider an international student to be any student who does not have American citizenship or permanent residency status. In addition to the materials requested above and TOEFL scores, international applicants must also submit:
List of all subjects/courses studied each year
Grades or examination results received maximum and minimum grades obtainable
Certified/attested English translation of all credentials
Degrees, certificates, diplomas awarded accompanied by leaving results
Official syllabus in English describing fully all coursework attempted
The above items should be mailed to:
Office of Undergraduate Admissions, (MC 018)
University of Illinois at Chicago
1200 West Harrison Street, Suite 1100
Chicago, IL 60607-7161
More Information
You're the Focus
In all areas – instruction and course delivery, academic advising and student support, financial aid, technical support, career advising – we focus on the business of you!
Full Cost Recovery
The BBA online program is a Full Cost Recovery program that is not eligible for tuition waivers by University of Illinois employees.
For more information, please click here.