Bachelor of Science in Finance
Close connections to Chicago's financial markets provide world-class experiential learning opportunities
Students majoring in finance will have access to faculty that brings both extensive real-world experience and an active research agenda on a variety of subjects into the classroom. They acquire both theoretical knowledge and practical skills in an atmosphere of intellectual stimulation and active learning.
Curriculum
Our curriculum is built to help students focus on their dream careers within finance. The rich list of elective courses introduces students to various fields including corporate financial analysis, business valuation, investments and portfolio management, banking, international finance, trading, and risk management. Through close ties with finance professionals, we supplement the course materials with guest speakers from across the financial sectors. Our research faculty provides students with innovative educational programs that help students apply new insights to critical business problems.
For a full list of curriculum requirements, visit the UIC Catalog
For a full list of courses offered, visit the course catalog.
Program Outcomes
With a finance degree, you'll have the skills and knowledge to:
Prepare financial statements, business activity reports and forecasts
Review company financial reports and seek ways to reduce costs
Analyze market trends to find opportunities for expansion or for acquiring other companies
Help management make financial decisions
Recommend individual investments and collections of investments or portfolios
Study a company's financial statements to determine its value
Buy and sell securities, such as stocks and bonds
Buy and sell commodities, such as corn, oil and gold
Monitor financial markets and the performance of individual securities
Evaluate cost and revenue of agreements
UIC Business students are prepared for jobs in corporate finance, banking, investment management, and financial services positions.
Entrepreneurial Finance
The course follows the life cycle of a startup company: business model evaluation, startup valuation and financing (including angel investors, venture capital, and debt financing), soft skills such as putting together the startup team and negotiating with customers and partners, and eventual exits (via an IPO or an acquisition). The course will use a combination of case discussions and lectures.
Emerging Technology
The course familiarizes students with the unique intricacies of the blockchain and its many iterations.  Students will understand how Fortune 500 companies are employing it for security purposes and logistics operations, and how the financial world and economists view cryptocurrencies. The course will be taught through a combination of readings, lectures, and a final project that challenges class cohorts to identify a problem that the blockchain could solve and design the appropriate solution.
Energy Finance
The course introduces students to a broad spectrum of finance topics in the context of the energy industry. They include valuation of energy projects with various approaches – from discounted cash flow to real options, as well as energy lending, project financing, energy trading, energy risk management such as hedging, energy risk modeling, and weather derivatives. Examples are drawn from crude oil, natural gas, electricity markets, clean energy investments, and carbon emission trading. The course is focused on lab work where students put theoretical concepts to practice using Excel skills.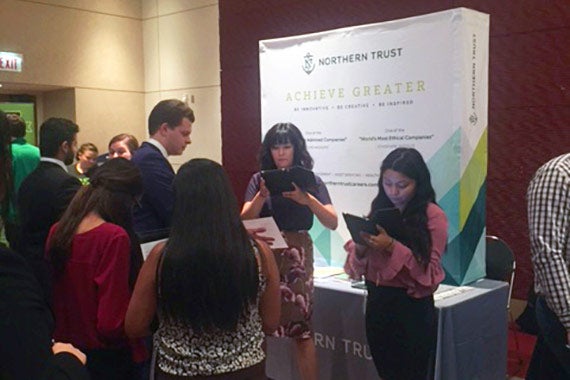 The following firms are top employers of UIC Business students graduating with a Bachelor of Science in finance.  For more career resources, visit the UIC Business Career Center site.
JPMorgan Chase & Co.
Liberty Mutual
Morgan Stanley
Northern Trust
Northwestern Mutual
UBS Financial Services
U.S. Bank
CNA Financial
National Futures Association (NFA)
Office of the Comptroller of the Currency (OCC)
To begin with, finance and accounting deal with very similar concepts and terms. In both finance and accounting you would deal with assets, liabilities, equity, profits, losses, investments, etc. However, time horizon and risk constitute the major difference. Accounting deals with the past and present account balances, flows, and transactions. Finance takes things from there to make decisions for the future periods, which are uncertain. Given that the future is never certain, even to the best and the brightest of financial decision-makers, at the heart of finance lies risk. Investing is risky since you are not guaranteed a return. Borrowing is risky because you may default. Budgeting is risky because you can never forecast your financial inflows and outflows with certainty. Starting a business or undertaking a new project is risky as it may turn out disappointing and ultimately fail. And so on. All financial decisions involve the passing of time and balance risk and return.

Most people who are just being introduced to finance think it is an exact science with right and wrong answers, cold numbers, solutions that can be programmed with an algorithm, and rigid structure, leaving no room for individuality. This perception is incorrect. True, as you are just starting out at an entry-level position, you would be involved in more structured tasks, but not necessarily. Ultimately, any analysis requires independent thinking and ability to ask open-ended questions. That's how you get an edge against fellow financial analysts: by being able to think in different ways and look for valuable information in places that they haven't considered!

Finance jobs require soft skills in addition to quantitative skills. Many occupations require extensive dealing with clients, customers, bankers, analysts, etc., and do not require for you to perform much quantitative analysis, although solid knowledge, recognition, and application of financial concepts is of course still essential.

Financial analysis requires certain math skills. To succeed in your finance coursework, as a minimum, you need good knowledge of college algebra and statistics. Don't underestimate statistics: financial decisions deal with the uncertainty of the future! Everything we deal with is probabilistic rather than deterministic: maybe the stock price will go up, maybe down; maybe the economy will be strong next year, maybe weak, and so on. For some applications such as portfolio allocation, for example, linear algebra comes in handy; and of course if you want in-depth treatment of financial derivatives such as puts and calls, futures and swaps, you need basic calculus. Finally, most finance jobs need programming skills in addition to math skills. Mastery of Excel is the bare minimum. You need to be able to work with large amounts of data, use pivot tables, run regressions and simulations, and so on. Our curriculum provides a solid opportunity to learn these skills.