Bachelor of Science in Human Resource Management
A career in human resource management will enable students to contribute to the success of an organization through the management of its most valuable resource - its people.
Interested in a career where you will maximize human potential? Does acquiring the best talent available and making sure employees are engaged and performing their best appeal to you? Does being a leader in organizational change excite you as companies adapt their work policies to the digital age?
At UIC Business, students pursuing a Bachelor of Science in Human Resource Management are in the heart of Chicago, close to major Fortune 500 employers in all industries. Our internationally recognized faculty deliver a focused, comprehensive education designed to prepare you to launch a successful career in human resource management.
Prior to graduation, students can also qualify for certification as a SHRM Certified Professional (SHRM-CP®) from the Society for Human Resource Management (SHRM), giving them a competitive edge in the job market.
Curriculum and Program Outcomes
Curriculum
The Bachelor of Science in Human Resource Management will equip students with the necessary skills to successfully manage human capital within organizations. A focused curriculum will cover topics that include building effective teams, compensation, global human resources, personal leadership skills, diversity and inclusion, recruitment, training and development, labor laws, and consulting.
For a full list of curriculum requirements, visit the UIC Catalog.
Program Outcomes
With a degree in human resource management from UIC Business, students will learn to:
Motivate, lead, and manage a diverse workforce
Recruit and hire top talent using industry best practices
Develop and implement compensation systems to reward employee performance
Create and facilitate training and development programs to optimize performance
Assess and develop interventions to enhance employee engagement and performance
Integrate human resource management systems in dynamic and multicultural global organizations
Apply effective management consulting skills to diagnose and solve complex organizational issues
Featured Courses
MGMT 452 Organizational Behavior
Emphasizes understanding and managing people at work. It analyzes individual, group and organization topics including leadership, motivation, attitudes, group dynamics, and organizational culture.
MGMT 453 Human Resource Management
Examines the activities involved in attracting, retaining, and motivating employees. Topics include human resource planning, training and development, human resource information systems, and labor negotiations.
MGMT455 Talent Management & Global Human Resources
Examines topics related to recruitment and selection, performance management, compensation and benefits, and managing human resources in a global economy.
Electives
Elective courses include Recruitment and Selection (MGMT 464), Compensation and Reward Systems (MGMT 465), Training and Development (MGMT 470), Leadership Theories and Skill Development (MGMT 475), and Managerial Consulting (MGMT 486).
SHRM-CP Eligibility
The BS in Human Resource Management at UIC Business is endorsed by the Society of Human Resource Management (SHRM) as meeting their curriculum guidelines and covers all key content areas and competencies. Qualified seniors can take the SHRM Certified Professional (SHRM-CP®) exam during their final year at UIC and add this nationally recognized certification to their resumes. Students graduating with a SHRM-CP® often command higher starting salaries and advance more quickly in their careers. SHRM reports that more than 5,000 employers are seeking employees with SHRM credentials every month. To learn more, visit About SHRM Certification and  Student SHRM-CP Eligibility.
Career Opportunities
Students can pursue a career path as an HR Generalist or an HR Specialist. HR Generalists are typically found in smaller businesses and have broad responsibility for all areas of human resource management.
Most entry-level jobs are found in large organizations within one of five HR specialty areas: Workforce Planning and Employment, Training and Development, Compensation and Benefits, Employee and Labor Relations, and Risk Management.
Examples of typical entry-level positions include:
Recruiter
Training Specialist
Onboarding Specialist
Benefits Administrator
Employee Relations Specialist
Safety Specialist
Employee Assistance Program Counselor
HR Information Management Specialist
Human Resource Associate
Top Employers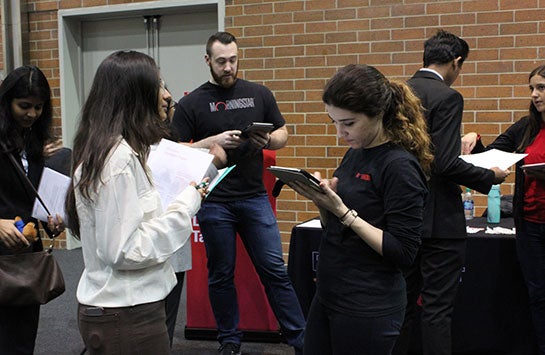 HR professionals are needed in all industries, and employers increasingly prefer to hire students with a major in human resource management for positions managing their organization's human capital.
The following firms are among the top employers of UIC Business students pursuing a career in human resource management. For more career resources, visit the UIC Business Career Center site.
Aflac
A.J. Gallagher
Chicago Transit Authority
CNA Financial Corporation
IBM
Morningstar
PepsiCo
PeopleScout
Semler Industries
Target
Wipfli, LLP
Frequently Asked Questions
What is the difference between general management and human resource management?

General management refers to the overall planning, organizing, and directing of all organizational resources including operations, marketing, finance, and human resource management to achieve organizational goals. Human resource management focuses on the management of an organization's workforce and includes recruitment and selection, analysis and design of work, training and development, compensation and benefits, performance management, employee relations, personnel policies, employee data and information systems, legal compliance, and support for organizational strategy.

What are some skills and traits associated with successful HR professionals?

Successful HR professionals demonstrate the following competencies: HR expertise and practice, relationship management, consultation, organizational leadership, global and cultural effectiveness, communication, and ethical practice. Diplomacy and good judgment are also key as they often perform the dual roles of representing management policies to employees and advocating employees' interests to management.

What internships are available to UIC Business students in human resource management?

Students can access a variety of internship opportunities through the UIC Business Career Center (BCC). BCC staff are available to provide assistance with career coaching, resume writing, interviewing skills, and internship searches. Students who join the Chicago SHRM chapter which totals 1,000 members, will also be able to access internship opportunities offered on the Chicago SHRM website.

What professional certifications are available to students majoring in human resource management at UIC?

Eligible seniors can sit for the Society of Human Resource Management (SHRM) Certified Professional (SHRM-CP®) exam prior to graduation. Presenting yourself as a SHRM-CP® who has mastered all key content areas and competencies in HR offers a tremendous advantage in the job market. Students can land jobs more quickly and command higher salaries. To learn more, visit About SHRM Certification and Student SHRM-CP Eligibility.

How are academic courses supplemented with experiential learning and industry exposure?

Faculty teaching courses in human resource management regularly enrich their classes with guest speakers who are experts in their fields and with experiential learning experiences. MGMT 453, Introduction to Human Resource Management, recently welcomed speakers via Zoom in four lively, interactive classes on recruitment, training, compensation, and performance management. Students enrolled in MGMT 486, Managerial Consulting, gain hands-on experience working with organizations on real-world cases.

What professional skill development is available to UIC students majoring in human resource management?

All UIC Business students participate in the Institute for Leadership Excellence and Development (iLEAD) Professional Development Program that focuses on key intangible skills in demand by employers. Students practice communication, collaboration, teamwork, problem-solving, and relationship building with the use of improvisational theatre techniques and hands-on learning activities. Internships, community service, mentoring, and advising form part of the four-year program.

What longer-term career opportunities are available in human resource management?

Mid-level positions in HR include managers, team leaders, and specialists in specific roles who oversee entry-level staff and report to senior HR management. Job titles include HR administrator, staffing manager, retention manager, trainer, compensation and benefits manager, manager of labor relations, and HR information management manager. Mid-level positions typically require five years of experience.

Upper-level management positions include HR Director, Talent Acquisition Manager, VP of HR, Chief Diversity Officer, and Chief Human Resource Officer. Upper-level positions usually require at least 10 years of experience.

What is the compensation outlook for HR professionals?

In 2019, the U.S. Bureau of Labor Statistics reported in Occupational Employment Statistics that the average salary in the Chicago area for Human Resource Specialists, Training and Development Specialists, and Compensation and Benefits Specialists requiring less than 5 years of experience ranged from $64,700 to $70,400 per year. Job growth was above average at 7-9% per year.

The average salary in the Chicago area for HR professionals in management positions such as HR Managers, Training and Development Managers, and Compensation and Benefit Managers ranged from $123,680 to $138,830. Management positions typically require 5 or more years of experience.

How has the coronavirus pandemic impacted the demand for HR professionals?

The tremendous changes caused by the coronavirus pandemic have increased the demand for HR professionals. Organizations need trained, creative thinkers to develop strategies to manage their workforce remotely while maintaining a sense of community and engagement. The demand will remain high after the restrictions from the pandemic ease and organizations contemplate office reentry.