Bachelor of Science in Human Resource Management
A career in human resource management will enable students to influence the success of an organization through management of its most valuable resource - its people.
Interested in a career where you will maximize human potential? Does acquiring the best talent available and making sure employees are satisfied and performing their best appeal to you? At UIC Business, you will be in the heart of Chicago, close to major Fortune 500 employers in all industries. Our internationally-recognized faculty deliver a focused, comprehensive education designed to prepare you to launch a successful career in human resource management. As a student in the Bachelor of Science in Human Resource Management program, students can also qualify to obtain certification as a Society for Human Resource Management Certified Professional (SHRM-CP) before you graduate, providing you with a distinctive edge in the job market.
Curriculum and Program Outcomes
Curriculum
The Bachelor of Science in Human Resource Management will equip students with the necessary skills to successfully manage human capital within organizations. A focused curriculum will cover topics that include building effective teams, compensation, global human resources, personal leadership skills, diversity and inclusion, recruitment, training and development, labor laws, and consulting.
For a full list of curriculum requirements, visit the UIC Catalog.
Program Outcomes
With a degree in human resource management from UIC Business, students will learn to:
Motivate, lead, and manage a diverse workforce
Recruit and hire top talent using industry best practices
Develop and implement compensation systems to reward employee performance
Create and facilitate training and development programs to optimize performance
Assess and develop interventions to enhance employee engagement and performance
Integrate human resource management systems in dynamic and multicultural global organizations
Apply effective management consulting skills to diagnose and solve complex organizational issues
Featured Courses
MGMT 452 Organizational Behavior
Emphasizes understanding and managing people at work. It analyzes individual, group and organization topics including leadership, motivation, attitudes, group dynamics, and organizational culture.
MGMT 453 Human Resource Management
Examines the activities involved in attracting, retaining, and motivating employees. Topics include human resource planning, training and development, human resource information systems, and labor negotiations.
MGMT455 Talent Management & Global Human Resources
Examines topics related to recruitment and selection, performance management, compensation and benefits, and managing human resources in a global economy.
Electives
Elective courses include Recruitment and Selection (MGMT 464), Compensation and Reward Systems (MGMT 465), Training and Development (MGMT 470), Leadership Theories and Skill Development (MGMT 475), and Managerial Consulting (MGMT 486).
SHRM Student Chapter and SHRM-CP Eligibility
SHRM Student Chapter
Students have an opportunity to join the UIC Business SHRM Student Chapter. Membership provides many benefits including leadership roles, scholarships, networking resources, internship and job opportunities, and professional development.
SHRM-CP Eligibility
The B.S. in Human Resource Management at UIC Business is endorsed by the Society of Human Resource Management (SHRM) as meeting their curriculum guidelines. Qualified seniors can take the SHRM Certified Professional (SHRM-CP) exam during their final year at UIC. Certification as a professional will add strength to your resume and provide a competitive advantage in the job market. To learn more, visit Student SHRM-CP Eligibility
Top Employers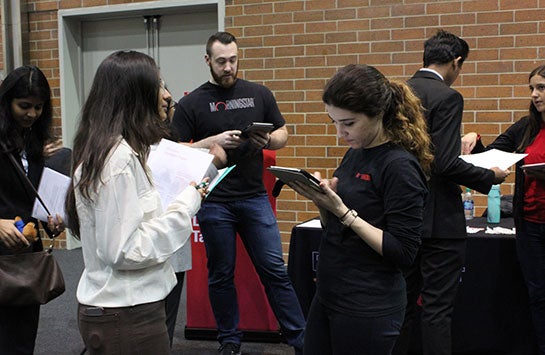 Employers prefer to hire students with a bachelor's degree in human resource management for their positions involving the management of human capital. The following firms are top employers of UIC Business students pursuing a career in human resource management. For more career resources, visit the UIC Business Career Center site.
Aflac
A.J. Gallagher
Chicago Transit Authority
CNA Financial Corporation
IBM
Morningstar
PepsiCo
PeopleScout
Semler Industries
Target
Wipfli, LLP
Typical Job Titles
The job possibilities for a UIC Business graduate with a B.S. in Human Resource Management are broad and include recruiting and selection, compensation and benefits, training and development, and management. Below are some typical job titles of recent UIC Business student graduates.
Compensation Analyst
Executive Team Leader
Human Resources Associate
Human Resources Coordinator
Human Resources Manager
Recruiter