Master of Science in Marketing
Master your marketing skills in as little as one year.
The UIC Business Liautaud Graduate School Master of Science in Marketing Program provides essential concepts and tools for a career in marketing. The program is ideal for students and young professionals with non-business degrees looking to transition to a marketing position or for business graduates seeking more specialized training in marketing.
Our marketing program offers unique concentrations in Global and Multicultural Marketing and in Marketing Research, in addition to a concentration in Advertising and Communications. Or you can opt for a general MS in Marketing, a flexible option that you can customize to your professional interests.
GMAT/GRE Waivers
For fall 2022 applicants, the MS in Marketing program offers GMAT/GRE waivers for the following:
Current students and graduates of U.S. colleges and universities with a cumulative 3.0+ GPA (all majors)
Graduates of U.S. colleges and universities with 3+ years of post-bachelor's professional work experience by the start of the program
Current students and recent alums of the U of I system who qualify through Guaranteed Admissions
Graduates of international colleges and universities with 3+ years of post-bachelor's professional work experience by the start of the program
Please complete the GMAT/GRE waiver request form to find out if you qualify. Please note that competitive GMAT/GRE scores may help your chances of admission and being awarded merit aid.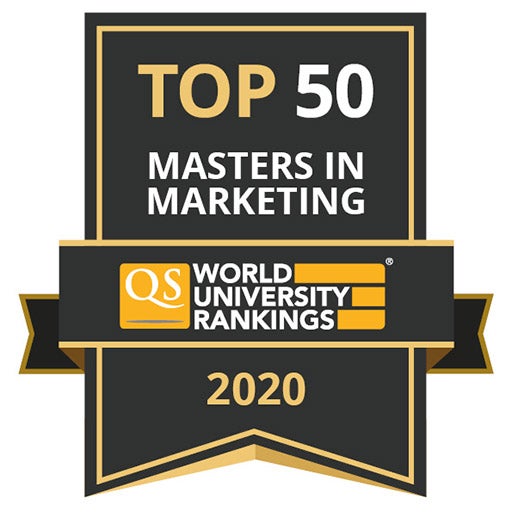 UIC Business MS in Marketing Ranks 39th
QS World University Rankings has ranked three UIC Liautaud Graduate School of Business programs in their top master's programs
Full Rankings
Info and Careers
Cutting- Edge Curriculum
This 34-credit hour program can be completed in one year of full-time study, or more than one year of part-time study. Students may be assigned additional prerequisite coursework depending upon their academic and professional background.*
This program is perfect for recent graduates who are looking to gain business knowledge in an exciting and growing area. For those looking to switch careers, this program provides practical skills in a rapidly growing career field.
Our marketing program takes advantage of our research faculty and couples theory with practical application.
Marketing Core Courses
Marketing Management
Marketing Analytics
Marketing Research
Professional Presence
Capstone Course
In place of a thesis, each student will participate in a capstone course, which involves detailed analysis and problem solving with live cases. Students will work directly with sponsoring organizations and businesses on real marketing projects.
Concentrations
Students choose between three concentrations, Advertising and Marketing Communications, Global and Multicultural Marketing and Marketing Research to complete their degree.
Schedule
Students may attend full-time or part-time. Students with basic business prerequisites can complete the program in as little as two semesters of full-time study. Students who have not completed the necessary prerequisites can begin in the summer term prior to starting the program in the fall semester in order to complete the program in 12 months of full-time study. Part-time students may begin any semester.
More Information
*For a full list of courses offered, visit the Course Catalog.
To calculate Tuition (before scholarships, assistantships or financial aid), visit the Tuition and Fees page.
Careers in Marketing
In this program, you will learn how to:
Develop integrated marketing strategies and solutions that address market challenges and exploit internal organizational and external market opportunities
Design, conduct, analyze, and utilize market research to aid managerial decision making
Create effective marketing tactics by configuring, monitoring and managing elements of the marketing mix
Plan advertising and promotional campaigns, such as radio, television, print, outdoor, online, SEM
Monitor and forecast marketing and sales trends
Measure the ROI of marketing programs and by collecting and analyzing data
Develop, execute, evaluate and present effective digital and social media marketing campaigns
Use major tools in digital marketing for paid search ads, search engine optimization (SEO), organic social media, social media ads and mobile marketing strategies
Tailor messaging and marketing activities to the unique needs of subcultures
Select and use the right marketing analytic tools to test alternative marketing activities and improve marketing outcomes
Conduct a brand image/identity research study and analyze the results
Career Outcomes
Marketing candidates are in high demand. In fact, Marketing Managers and Marketing Research Analysts are listed as two of the "Top 25 Jobs" by U.S. News & World Report. Marketing Manager jobs, with a median salary of $115,750, are expected to grow by 12 percent, while Marketing Research Analyst jobs, with a median salary of $60,300 are expected to grow 32 percent.
Career Possibilities

Marketing Manager
Marketing Research Analyst
Product Marketing Specialist
Social Media Manager
Digital Strategist
Brand Manager
UIC Business Master of Science in Marketing
Featured Courses
MKTG 572 International Marketing
This course focuses on the marketing of goods and services beyond domestic markets. Learn about distribution, promotion and pricing strategies, socio-cultural differences, and the economic, political and regulatory environments that influence international marketing strategy and decision making.
MKTG 562-563-564 Marketing Research & Analytics
This three-course sequence will show you how to collect and use all types of data (primary and secondary, quantitative and qualitative, analog and digital) to better understand a dynamic marketplace and make effective marketing decisions.
MKTG 567 Digital and Social Media Marketing
Learn how to develop, execute and evaluate effective digital and social media marketing strategies.
Concentrations
Advertising and Marketing Communications
Study and analyze effective marketing tactics by designing, monitoring and managing traditional advertising, social media and digital marketing campaigns.
Courses include:
Consumer Behavior
Marketing Communication and Promotion Strategy
Digital and Social Media Marketing
Brand Management
Electronic Marketing
Global and Multicultural Marketing
Design marketing strategies with an emphasis on incorporating multicultural perspectives into the marketing mix.
Courses include:
Multicultural Marketing
International Business Operations
International Marketing
Marketing Research
You'll develop the quantitative and analytical skills to manage key marketing and business decisions as well as measure the effectiveness of sales and marketing tactics.
Courses include:
Consumer Behavior
Marketing Research II
Marketing and Business Intelligence