Master of Science in Business Analytics
The MSBA at the UIC Business Liautaud Graduate School prepares you for today's hottest careers.
The MS in Business Analytics is a STEM designated program providing you with the skill set necessary to analyze large data sets and generate insights through techniques in data visualization, statistical modeling and data mining. The degree will provide you with a holistic approach to the field and develop expertise in data management, machine learning and predictive analytics, along with a strong business foundation.
The curriculum emphasizes industry experience, exposure and collaboration across a variety of analytics projects. Every industry is using technology to generate new data and they need analysts to interpret that data to understand customers, develop new products and enhance revenue.
For spring 2023 and fall 2023 applicants, the MS in Business Analytics program offers GMAT/GRE waivers for the following:
Graduates of U.S. colleges and universities with 3+ years of post-bachelor's professional work experience by the start of the program
Current students and graduates of U.S. colleges and universities with a 3.0+ cumulative GPA (all majors)
Current students and recent alums of the U of I system who qualify through Preferred Admissions
Please complete the GMAT/GRE waiver request form to find out if you qualify. Please note that competitive GMAT/GRE scores may help your chances of admission and being awarded merit aid.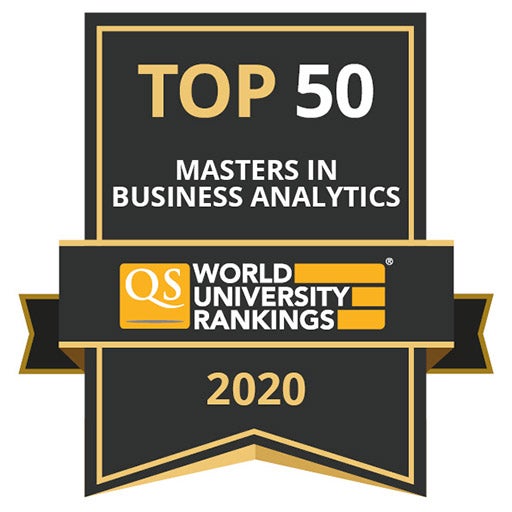 UIC Business MS in Business Analytics ranks 36th Heading link
QS World University Rankings has ranked three UIC Liautaud Graduate School of Business programs in their top master's programs
Full Rankings
The MSBA curriculum includes courses covering current topics on business intelligence, applied statistics, data mining, machine learning, text analytics, data visualization, optimization and 'big' data analytics. The curriculum integrates knowledge and training on technical topics with business applications and functions, such as finance, marketing and operations to understand analytics strategy and practice in organizations. Various analytics-related business electives allow students to focus on specific business areas.
Cutting-Edge Curriculum
Fast-paced program
The 32-credit hour program can be completed in one year of full-time study, or more than one year of part-time study.
Students may be assigned additional prerequisite coursework depending upon their academic and professional background.*
Exposure to technology
Through intense coursework, you will gain experience in using current tools such as R, Python, Hadoop, Spark, Tableau, IBM/SPSS and others. With hands-on projects, you can learn to analyze live data from digital marketing and social media, finance, accounting, supply chain management, healthcare and e-commerce.
Experiential learning
The MSBA includes a capstone experience providing you with the opportunity to work with a client organization to analyze a business issue and develop analytics solutions.
Who should enroll?
We encourage applicants from all majors and backgrounds who want to combine skills in data management, technology and analytics to create business solutions to apply. Our program is also flexible for working professionals and entrepreneurs seeking to develop new skillsets in business intelligence with the goal of becoming data-driven decision makers.
More Information
*For a full list of requirements including prerequisites, visit the UIC Catalog.
Full a full list of courses offered, visit the Course Catalog.
For tuition and fees information, visit the Tuition page.
Program Outcomes
The UIC Business Liautaud Graduate School Master of Science in Business Analytics program helps you develop skills and training to work in data-rich environments, and enables you to develop capabilities in business intelligence, machine learning and analytics. After completing the program, you will be able to bring together information technology, AI, data science and business so that you will be able to analyze and communicate the value of data.
Career Outcomes: Opportunities in business analytics abound and promise to grow exponentially for the next decade. Our program prepares students for analyst, data scientist roles in the areas of accounting, finance, digital marketing, supply chains, revenue management, risk management, among others. If you are a current working professional, the program can open up managerial opportunities such as product manager for information and corporate level positions including chief data officer, analytics officer or information officer.
More than 86 percent of recent graduates (2019-2020) had been employed within six months of graduation. The average starting salary for the these MSBA graduates was $88,500.
UIC Business Master of Science in Business Analytics Heading link
IDS 521 Advanced Database Management
Advanced topics in Structured Query Language (SQL), dimensional modeling for Data Warehousing (DW) systems, and some next generation (NoSQL) and cloud-based database architectures that address current Big Data challenges.
IDS 558 Revenue Management
Mathematical models and analytics to solve for profit-maximizing business strategies for companies. Topics covered include price optimization, price differentiation, market segmentation, capacity allocation, and network management.
IDS 560 Analytics Strategy and Practice
Client-based projects to learn how to apply the analytic skills developed in the MS Business Analytics curriculum to practical problems. Case studies and analytics related issues in the context of organizational strategy.
IDS 561 Analytics for Big Data
Fundamental concepts of distributed algorithms to analyze large-scale data in various domains, data mining on large data and applications (MapReduce), data storage, query and business intelligence with distributed databases. Use of Hadoop, Hive, Spark, Mahout.
IDS 564 Social Media and Network Analysis
Analytic approaches to help organizations utilize large volumes of social media data for making informed business decisions, social network analysis, customer behavior analysis, social advertising using machine learning methods, use of Gephi and R.
IDS 572 Data Mining for Business
Methods and tools for discerning meaningful and useful patterns in data. Overview of data mining and its application to business problems, core data mining techniques, and best practices. Software used include use of Rapid Miner and R.
IDS 575 Statistical Models & Methods for Business
Foundations of modern statistics and machine learning methods for business analytics. Multivariate analysis, generalized linear models, supervised and unsupervised learning, maximum likelihood and expectation maximization, structured prediction, tree methods, sampling, support vector machines, time series analysis. Software used include R.
IDS 576 Advanced Predictive Models
Advanced machine learning techniques and applications. Neural networks and deep learning, hierarchical models, Bayesian networks. Use of Python and various packages.
"My passion for data and insights began during high school when I was working on a project on the milk supply pattern of my locality which encompassed thousands of households. My curiosity got the best of me, fast forward a few years and I ended up pursuing a master's in economics, wherein my understanding of data-driven business grew and I also learned its immense importance. My transition to analytics as a whole has been a gradual and smooth ride, influenced by my work at Capgemini where I was a consultant with Data Science and Analytics team. UIC provided me the best possible MSBA program which matched my background and catered to my requirements. It helped me develop sound technical skills along with knowledge of business concepts. UIC has definitely helped me kick start my journey in the world of analytics."

Data Science & Analytics Consultant at EY, MSBA '18

|
Special Topics
Analytics special topics (IDS 594), updated regularly:
Cognitive Computing and Analytics with IBM Watson
Health Information Management & Analytics
Advanced Analytics Using SAS
Machine Learning Applications Using R
Machine Learning Applications with Python
Data science for Online Customer Analytics
Analytics Electives
Other analytics electives:
IDS 476 Business Forecasting Using Time-Series Methods
IDS 564 Social Media and Network Analysis
IDS 566 Advanced Text Analytics
IDS 567 Data Visualization
IDS 576 Advanced Predictive Models
Business Electives
Various courses based on individual interest, such as:
IDS 552 Supply Chain Management
IDS 558 Revenue Management
IDS 540 Marketing Analytics
ACTG 516 Financial Statement Analyses
FIN 510  Investments
FIN 516 Options & Futures
Business Analytics Organization Student Chapter
The BAO is a student organization that fosters interaction and networking with industry experts and leaders in the field of analytics and data science. Workshops and speaker series expose students to different technologies and application areas.
Preferred admission and STEM-designated program
Outstanding UIC and UIUC undergraduates with a GPA of 3.00 in their undergraduate degree in IDS can be admitted into the MSBA program without a GMAT or GRE score.
The MSBA is a STEM designated program. International students are allowed work experience on the OPT STEM extension.
Some of the world's largest businesses recruit at UIC Business, including:
Fortune 500
AArete
Accenture
Aetna
Amazon
Assurant Solutions
Blue Cross & Blue Shield
CAN Insurance
Capgemini
Capital One
Cardinal Health
Caterpillar
CME Group
Critical Mass
CVS Health
Deloitte
Discover Financial Services
Dyson Technical Solutions
eBay
Enova International
Facebook
Flexon Technologies
Foresight ROI
Grainger
IBM (Poland)
IRI
KPMG
McKinsey & Company
Motorola Solutions
Mu Sigma
Oracle
PwC
...and More
Qualcomm
Remedy Analytics
Rise Interactive
SAP America
Shelby Group
Siemens
SourceLink
Starbucks
Teksystems
Thompson-Reuters
TransUnion
Tredence
United Health Group
US Foods
Verizon
Wavicle Data Solutions
Webb Mason Analytics
Answer

The Master of Science in Management Information Systems Program focuses on information technology, software and systems, and prepares students for jobs as developers, business analysts, project managers and technology consultants.

The Master of Science in Business Analytics Program trains students to work in data-rich environments. It enables students to solve real business problems through organization, analysis, and interpretation of data. This course prepares students for jobs as data analysts, data scientists, and domain analysts (e.g., financial analyst, healthcare analyst, or risk analyst).

Answer

The program offers prerequisites to equip students with the necessary business and technical background. Prerequisites do not count toward the 32-credit program requirement. Technical prerequisites cover essential knowledge of databases, programming and statistics. Students without prior business education or experience are required to take two courses in core business areas like finance, marketing, accounting or operations. Prerequisite courses may be waived based on equivalent prior coursework or work experience in a functional area. For a full list of requirements including prerequisites, see "View Degree Requirements" above or visit the UIC Catalog.

Answer

The MS Business Analytics program offered by the Liautaud School of Business is a STEM (Science, Technology, Engineering and Math) course.

Answer

The MS Business Analytics Program admits students in both the fall and spring semesters. Students may choose to enter in the summer semester to take prerequisite courses, including programming, database and business prerequisites. Students seeking summer admission are encouraged to apply early.

Answer

Students from a variety of backgrounds (including tech and business) enroll for the MSBA Program. Through coursework, students develop the technical and business skills required to successfully complete the program. We assess candidates to provide each individual with prerequisite courses based on their background and work experience.